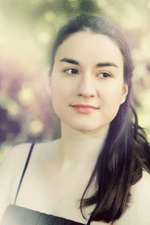 Tuesday Evening Season - 7th January, 2014
Wednesday, 8 January 2014 , ora 9.21

The presence of the pianist Adela Liculescu on the bill of the Tuesday Evening Season brought, on 7
th
January, 2014, a numerous and enthusiast audience that filled the Small Hall of the Romanian Athenaeum. This proves that Adela Liculescu is an already established name in the music world, a young woman who confirms her pianistic talent with each performance where she tries to present attractive programmes. After the previous season, when we could listen to her with a programme consisting entirely of works by Ludwig van Beethoven, last night the young pianist proved an excellent technique and a wide range of nuances interpreting Beethoven's
Sonata Op.2, No.1 in F Minor
, Franz Schubert's
Sonata in A Minor
and the suite
Gaspard de la nuit
by Maurice Ravel. The programme was carefully prepared and reflects the interior and artistic evolution of the artist who affirms: 'For this season, I wished to create a repertory as diverse as possible. Last year I focused on a single composer, so this year I thought I should diversify; thus, I tried to interpret works belonging to very different periods. This is the reason why for the encore I chose to play Franz Liszt's
Mephisto Waltz
and an étude by Alexander Scriabin, so that the programme would be complete. I felt really good, the atmosphere at the Athenaeum is quite special, because there are many friends coming and I enjoy playing here, I feel I have a connection with the audience and, actually, this is the most important trait that defines us as artists.'
Once again, Adela Liculescu proved that she is a pleasant presence on stage, an incredibly enjoyable musical 'surprise', fully appreciated by a numerous audience, including the cellist Marin Cazacu:
'What a wonderful evening…I was so happy to listen to a young woman that I have known for a few years and witness her great progress…she is already exceptional. In twenty years' time we'll certainly talk about her as a great figure of the Romanian music life…She is an accomplished pianist, because she has everything she needs; her phrasing is full of culture and technique and, more than that, of warmth coming from her heart. I discovered her a few years ago and I was really delighted to listen to her again now. She does honour to us in Vienna, where she studies, and I'm happy that the Bucharest audience, present in large numbers this evening, fully appreciated her presence on the stage of the Romanian Athenaeum.'
A truly wonderful evening, ended with two encores – works by Franz Liszt and Alexander Scriabin. Adela Liculescu's recital elicited the ovations of the music lovers who applauded for minutes on end, with several curtain calls.
Jeanine Costache
Translated by Mihaela Olinescu and Elena Daniela Radu
MTTLC, The University of Bucharest