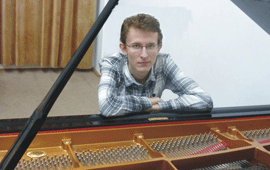 Tuesday Evening Season - 14th January, 2014
Wednesday, 15 January 2014 , ora 8.01

Valuable young musicians who performed during last year's
Tuesday Evening Season
return to the stage of the Romanian Athenaeum studio with an interesting repertoire. Such is the case of pianist Daniel Dascălu, his previous performance having attracted a large audience that filled the hall under the Athenaeum's dome. In a programme including works by Bach, Beethoven, Ravel and
Bartók, Daniel
Dascălu showed good technique and well-shaped musical thinking, blended with a masterful use of the instrument.
Still nervous and very focused after an evening that ended with Béla Bartók's opus Contrasts for Clarinet, Violin and Piano, performed with his friends, the clarinet player Radu Greluș and the violinist Radu Barabancea, Daniel Dascălu commented:
'I consider Bartók's composition to be very valuable and full of energy, with a lot of Romanian and Hungarian folklore motifs; it is a very dramatic work. I wanted to go from the classical German world - Bach and Beethoven - to the modern world of Bartók with something by Ravel. We are three musicians with strong personalities and when we manage to reach harmony we can create something very beautiful.'
The pianist Daniel Dascălu is only 23 years old, yet he has a great record and numerous participations at master classes, and he is appreciated for his rigorously trained performance by an enthusiastic audience which also included pianist Remus Manoleanu:
'I was glad to come here and listen to the pianist Daniel Dascălu. I have known him since we had very interesting classes in Vilnius and I took great pleasure in listening to him play Bach and Beethoven and Ravel, of course. But the work that touched me most, so to speak, was Bartók's Contrasts, where the shape of the "contrasts" was the clarinet player Greluș, a very talented one… the others, too, but he was the most… the most…'
The pianist Daniel Dascălu played at the Tuesday Evening Season on 14th January, 2014, with the clarinet player Radu Greluș and the violinist Radu Barabancea - three instrumentalists that proved their virtuosity, their expressivity and artistic maturity, three musicians that fascinated the audience.
Jeanine Costache
Translated by Irina Borțoi and Elena Daniela Radu
MTTLC, The University of Bucharest