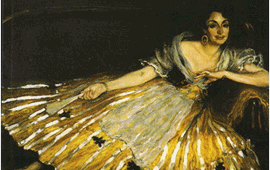 Under Yolanda Mărculescu's Sign
Monday, 20 January 2014 , ora 9.40

On the evening of January 16
th
, at the concert hall of the National University of Music Bucharest, there was a particular event that took place in remembrance of soprano Yolanda Mărculescu, a famous Bucharest Opera soloist for two decades and a well-know teacher at the National University of Music Bucharest (that was a Conservatory during her time). In 1969 she continued her career in the US as an honoured professor at the Wisconsin-Milwaukee University, and she was also applauded at tens of recitals and for recording albums of a quality praised by daily papers and prestigious magazines. When she returned to Romania, in 1991, as a member of the jury of the
George Enescu
Competition, she met once again with her disciple, the soprano Georgeta Stoleriu, a talent that she rediscovered in the recital as an accomplished person and recognized for her merits, as well as a professor at the same University, continuing in this way Yolanda Mărculescu's singing school line. All the while nobody suspected that she was being consumed by a terrible disease that would take her away in December 1992. As a tribute, Georgeta Stoleriu sponsors a scholarship that carries Yolanda Mărculescu's name, awarded for the 20
th
time this year and received now by Adrian Dumitru (master's degree, in Ph.D. professor Ionel Voineag's class); her former student, the soprano Felicia Filip, that took part in this generous event for many years, offered a similar scholarship to Anca Păuleț, now in her 2
nd
year of studies in the same class where the sponsor once developed in.
The awarding of the scholarships was preceded as usual by a dialogue that this time was between Georgeta Stoleriu and I, and in which Ileana Ursu also took part, a musicologist that after her activity as an editor for the Romanian Radio Broadcasting Corporation, settled down in Canada in 1998, and now she returned to release her book about Yolanda Mărculescu, The Music Empire's Diva, recently published by Editura Muzicală. The choice of the topic was not at all random, because the author herself had studied canto since high school with Mrs. Stoleriu and as a consequence she had already been familiar with 'Yolanda Mărculescu's school' technique and method, and now returning to her roots, she investigated documents from her archive (including a personal journal), listening to every recital recording, even writing papers in which she analysed the artist by comparing and putting her beside other well-known sopranos like Joan Sutherland and Beverly Sils, with whom our singer had often been likened with and even preferred to by that era's analysts. This way she ended up writing 451 pages, also adding the annexes that contain the main character's entire artistic activity, the radio and disc recording list, the scholarships that carried her name (awarded since 1995), her scientific activity in Europe and in the US, details about the International Lied Festival that she set up in Milwaukee in 1981, the performances that she directed at the American university, awards, honour titles etc.; it is of course a rich bibliography, but also a 'musical terms glossary', as well as almost 100 photographs of Yolanda Mărculescu and Georgeta Stoleriu, the one that dedicated herself to always paying homage to her teacher. The volume was released after twenty years of effort and research.
The musical programme started the evening with arias from Puccini's Gianni Schicchi and Bellini's I puritani, operas performed by Ana-Maria Hangu (4th Year, in university teacher Georgeta Stoleriu's class), awarded last year with Felicia Filip's scholarship, now proving that her full voice had its quality doubled by an already secured technique and a remarkable expressivity; she was accompanied by Inna Oncescu's piano. Afterward, Georgeta Stoleriu's recital, accompanied by the pianist Verona Maier, contained Yolanda Mărculescu's favourite miniatures – parts of A. Pann/ Brăiloiu's The Hospital of Love, two lieds by George Enescu from Clement Marot's lyrics cycle, another one from Jora, as well as pages from the French music profoundly loved by the afore mentioned artist, written by Faure, Chausson, Satie, and performed with finesse and elegance, with humor and sensibility by the much applauded musicians. As an ending, Georgeta Stoleriu, Verona Maier and Anca Iarosevici (viola da gamba) interpreted with talent Alfonso XL Sabio's wonderful medieval suite, using different percussion techniques and also the lute, accompanying the soprano's amazingly fresh, bright and warm voice.
The second part of the event was reserved to discussing Ileana Ursu's book, that was debated through praises by Viorel Cosma, Luminița Constantinescu, Valentina Sandu-Dediu, Cristina Sârbu, Octavian-Lazăr Cosma, followed by Georgeta Stoleriu presenting Liane Georgescu, that in 1968, being at the custom-house when Yolanda Mărculescu, her husband and his mother were about to leave the country for good, managed to convince the revenue that he should treat such a personality with respect; she was thrilled to tell us about that event and also about her second meeting with Yolanda Mărculescu in 1991, thus closing the 'circle', allowing us to know the one that had the courage to help an artist that she deeply admired, an episode that was also written in the book.
Autographs were shared along with the champagne, other memories were winded up, and once again superlative comments were given about the superb performance of the musical creations in the recital and about Georgeta Stoleriu's generosity in sponsoring the scholarship for twenty years now, followed by Felicia Filip, and the release of the book after twenty years of work. Everything took place on a beautiful evening, inspired by Yolanda Mărculescu's memory.
Anca Florea
Translated by Roxana Țicămucă and Elena Daniela Radu
MTTLC, The University of Bucharest