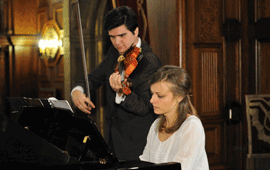 Tuesday Evening Season - 21st January, 2014
Friday, 24 January 2014 , ora 9.44

A youthful, enthusiastic and communicative evening, this is how we can define the chamber recital of 21st January, 2014, performed by violinist Vlad Răceu and pianist Octavia Răceu. The two young musicians from Transylvania, Ph.D. students at "Gheorghe Dima" Musical Academy of Cluj Napoca, brought an exquisite programme comprising works by Ysaye, Stravinsky and Richard Strauss, as part of the Tuesday Evening Season.
The violinist Vlad Răceu expressed virtuosity and self-control right from the beginning of his first soloist opus - Sonata No. 3, The Ballade by Ysaye. Excited by his first appearance on the stage of the Small Hall of the Romanian Athenaeum, the young musician stated:
"Two of the three works which I have performed are not part of the usual repertoire of pianist and violinists; Stravinsky - Duo Concertant and Sonata by Richard Strauss, which, given its technical difficulty, is often avoided by violinists and pianists. It was my first appearance on the stage of the Small Hall of the Romanian Athenaeum and this is perhaps why the acoustics seemed quite strange to me".
An attractive, difficult and challenging programme, given by the duet violin-piano, made up of instrumentalists Vlad and Octavia Răceu. Two passionate musicians who have proposed , with sensitivity and an attentive stylistically outline, pieces such as Duo Concertante by Igor Stravinsy, and Sonata in E flat major by Richard Strauss, rarely played itn a concert hall.
"From my point of view, it was a complex programme, that demands quality from any performer, both concentration and literally physical force, as well. At the same time, they are extremely beautiful works, which must be played more often on the Romanian stages", stated Octavia Răceu.
Virtuosity, a lot of expressivity and a well - defined musical thinking, this is what the two musicians - violinist Vlad Raceu and pianist Octavia Răceu - have shown, applauded in the end of the evening by an enthusiastic public.
Jeanine Costache
Translated by Aida Birgila and Elena Daniela Radu
MTTLC, The University of Bucharest