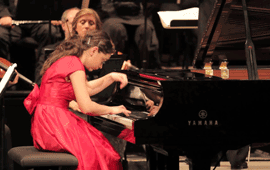 Tuesday Evening Season - 28th January 2014
Wednesday, 29 January 2014 , ora 8.12

She is only 16, but started building her musical path over ten years ago, when she won the 1
st
Prize at "
Paul Constantinescu
" National Competition. Since then, the pianist
Diana Tudor
has increased her musical achievements with many awards, the most recent one being the 2
nd
Prize at the
International Piano Competition Nice Côte-d'Azur
, in France, in November 2013; in the same year, she recorded the
Concerto No.1 for Piano and Orchestra, Op.15,
by Ludwig van Beethoven, for the
Golden
S
ound Archive
of the Romanian Radio Broadcasting Corporation. The
Piano Sonata No.26 in E flat major
("
Les Adieux")
by Beethoven, was part of the programme which Daria Tudor presented on 28
th
January, 2014, on the stage of the Small Hall of the Romanian Athenaeum, along with works by Frédéric Chopin, Johann Sebastian Bach, Wolfgang Amadeus Mozart, George Enescu and Franz Liszt. This way, her musical achievements have become known to the public, and her name - written on the play bill of the
Tuesday Evening Season
- brought a large number of music lovers into the auditorium which have followed her performance with interest. Excited after a successful recital, the young musician told us about her musical path:
"This is the third time that I have played on the stage of the Small Hall of the Romanian Athenaeum, and every time it has been extraordinary. I feel at home here: the public comes with pleasure and I always perform with pleasure, being 'at home'. I wanted to have a varied repertoire; therefore I avoided performing pieces of the same musical style consecutively. I started and finished with the Romantic style, I approached the Baroque style, the Classical one and obviously I performed works by Enescu. I do not have a favourite composer, but being a Romanian composer so dear to me, I really wanted to perform two works by Enescu this evening".
In a well-prepared programme reflecting her evolutive process both at the artistic and the inner level, Daria Tudor captured the public's attention right from the first chords, with her talent, sustained by a very good piano technique, creative intuition and powerful expression, this way proving her artistic maturity. After a difficult programme, rewarded with enthusiastic applauses, Daria Tudor managed to conclude her recital with one more piece from one of Frederic Chopin's creations.
Jeanine Costache
Translated by Aida Birghila and Elena Daniela Radu
MTTLC, The University of Bucharest