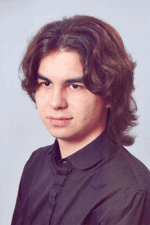 The Tuesday Evening Season - 4th February, 2014
Wednesday, 5 February 2014 , ora 8.17

"The same tune can leave different impressions, depending on how it is performed" stated Dragoº Dimitriu in an interview. I heard many tones and feelings in the young pianist's performance on the Tuesday Evening Season, a programme where I listened once again to music pieces by Ludwig van Beethoven, Frédéric Chopin, Franz Liszt, Witold Lutoslawski and Serghei Rachmaninoff. Dragoº Dimitriu can be proud of the fact that he was one out of the ten admitted to the University of Music and Performing Arts in Vienna, from among 120 pianists who yearned to be admitted there.
His performance, on 4th February, 2014, in the small concert hall of the Romanian Athenaeum, was prepared thoroughly, having received Professor Martin Hughes's training at the University, which facilitated his participation on famous stages around Europe, such as the Berlin Philharmonic where he played Beethoven's Piano Sonata No. 5, The Emperor in 2011.
I could feel passion in Dragoº Dimitriu's piano interpretation, an enthusiasm with which he talked about his performance on the small concert hall's stage and about his musical itinerary:
"I enjoyed it very much and I thought that the sound of the concert hall was unexpectedly good, and the piano, although it was a Kawai, I did not imagine it would sound so well. I started my performance with Rondo a Capriccio, Op. 129, which is also called Rage Over a Lost Penny, Vented in a Caprice, a short composition with which I have many pleasant memories. From Beethoven's works, I also played Sonata Op. 27 no. 1, because I liked very much the idea that it was written as a fantasia where every part seems to have been improvised on the spot and I think that is exactly the way it should be performed. It is a special sonata where we can hear a warm Beethoven. The three studies that I approached, while two of them are my favourites - Étude Op. 10, No. 4 by Chopin and Transcendental Étude No. 12, Chasse-Neige by Liszt I will interpret the Lutoslawski study at a contest, where a modern composition was required. I did not like it at first, but eventually I started enjoying this study that is purely virtuosic. I ended my performance with Variations on a Theme of Corelli, which I consider to be compositions that can express various states of the soul. Although Rachmaninoff did not play them with pleasure, I did enjoy them very much… there is even a story about him which says that when he started to perform them and while he did so, if he heard someone from the audience so much as cough he would not play the next part; but for the piano literature I think it is one of the most important compositions."
Dragoº Dimitriu is a fiery pianist that played with virtuosity, sensitivity and a careful style portrayal from Beethoven to Rachmaninoff, ending the performance with a Scarlatti sonata at the request of the audience.
Jeanine Costache
Translated by Roxana Þicãmucã and Elena Daniela Radu
MTTLC, The Univerisity of Bucharest