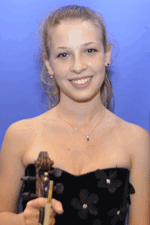 Tuesday Evening Season - 11th February, 2014
Wednesday, 12 February 2014 , ora 8.04

'A violinist who thinks by means of sounds' is the definition that Ioana Olteanu gives of herself; the young musician is known for her native talent, her expressivity and passion that won her awards in the more than 50 national and international competitions. For two years running, in 2012 and 2013, Ioana Olteanu won the scholarship granted to young talents by the Princess Margret of Romania Foundation. In 2013 she also won the SoNoRo scholarship. Her accomplishments so far have not remained unknown to the public; therefore, her presence on the bill of the Tuesday Evening Season on 11
th
February, 2014 attracted a considerable number of lovers of young talents, who were very interested in her evolution. We had the chance of appreciating the precision of the intonation and the quality of the sound of the violinist Ioana Olteanu within a programme comprising works by Johann Sebastian Bach, Wolfgang Amadeus Mozart, Niccolo Paganini, Henryk Wieniawski and Jean Sibelius. Her musical itinerary beside the pianist Otilia Costea was received with enthusiasm by the audience which included
Rodica Drăgolici
, her teacher at the Dinu Lipatti Music College:
'Ioana Olteanu is very ambitious, with a strong personality; she is a very talented girl who learns with ease…an intelligent and sensitive child…'
The recital given by the violinist Ioana Olteanu can be defined as an evening marked by her youth, by enthusiasm and communication. She was clearly excited about her first performance on the stage of the Small Hall of the Romanian Athenaeum:
'It was really nice to play in this hall. Honestly, ever since I was a child, I have wanted to be able to perform at the Athenaeum. Of all the works in the programme, it is Sibelius I most resonate with; it's the last work that I interpreted. It has a certain depth; it's written mainly for solo violin, but it's a combination between the cadence of the piano and that of the violin. I think it is extremely melancholic and provides multiple possibilities of expression…'
The violinist Ioana Olteanu really excelled in Part I of Sibelius' Violin Concerto No. 1 in D Major. After a rather academic, but correctly interpreted musical performance, this has given me the certainty that the young musician possesses all the attributes - virtuosity, sensitivity and a lot of expressivity - necessary to accomplish remarkable feats.
Jeanine Costache
Translated by Mihaela Olinescu and Elena Daniela Radu
MTTLC, The University of Bucharest