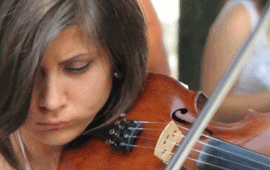 The Tuesday Evening Season - 25th February, 2014
Wednesday, 26 February 2014 , ora 8.38

We enjoyed a recital with spectacular compositions, in which professional skill entwined with enthusiasm, in the Small Concert Hall of the Romanian Athenaeum on the evening of 25
th
February.
The Tuesday Evening Season's
guest was the violinist Andra Lucia Andrei. She had a large audience that applauded with delight the young musician's performance with a tessellated itinerary that contained no less than nine compositions by George Enescu, Pablo de Sarasate, Nicolo Paganini, Camille Saint-Saens, Edward Elgar, Maurice Ravel, Fritz Kreisler and Jules Massenet. Andra Lucia Andrei is only 20 years old, a violinist with a generous soloist activity, a member of the Romanian Youth Orchestra, collaborates with the 'George Enescu' Philharmonic Orchestra and the Romanian Radio National Orchestra. Accompanied by pianist Clementina Ciucu, besides whom she has evolved, Andra Lucia Andrei has proven her skills and expressivity with confident bow strokes in a musical programme about which she told us the following:
"I wanted to create a complex repertoire with slow-paced compositions as well as virtuosic ones, combining in this way sensitivity with agility. I wished for this recital very much and I wanted it to have a wide range of colours where every tone can be easily noticed. I hope I managed to offer the audience this tone map this evening."
Andra Lucia Andrei has displayed a vast colour range in which virtuosity fragments were predominant. She is a 2nd Year student at the Bucharest National University of Music in the class of the greatly esteemed violinist Gabriel Croitoru. The maestro told us the following about the development of his pupil:
"I have known Andra for many years and I am glad that she is progressing in a positive direction. She had a long, hard itinerary, but it was exhilarating for the audience. We still have work to do, but it is encouraging to see that the young generation has not yet abandoned these tough instruments, as they are hard to handle. The youngsters are trying to perform as best they can, because it is difficult to follow in the footsteps of the ones that have stepped on this stage before them. It is an extremely arduous profession, but just as beautiful."
In Andra Lucia Andrei's virtuosity pieces performed with precision I have noticed a warm sound full of sensitivity, a feature much appreciated by the audience in the Small Concert Hall of the Romanian Athenaeum whom called her back to the stage many times.
Jeanine Costache
Translated by Roxana Țicămucăand Elena Daniela Radu
MTTLC, The University of Bucharest