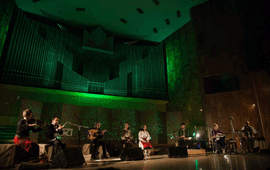 Roots Revival Romania - Musical Gift at the Radio Hall
Tuesday, 4 March 2014 , ora 8.03

The 'Roots Revival Romania' tour, which started on 25
th
February, came to an end at the Radio Hall on 1
st
March. It was indeed a novel kind of gift, because this project focuses on traditions and their revival.
The second edition, inspired by Maria Tănase, had several guests - 7 musicians from 7 countries and a guest from Maramureș, where the Roots Revival concept came into being. In 2014, before the concert in Bucharest, the Roots Revival Romania was presented at the Philharmonic in Brașov, at the Students' House of Culture in Cluj-Napoca and at the 'Banatul' Philharmonic in Timișoara, and the audience was charmed every time.
The programme blended traditional Romanian songs, performed by soloists Monica Mădaș, currently working in London, and Maria Casandra Hauși, and sounds from the most varied cultures: Armenia was represented by Emmanual Hovhanissyan (duduk), Turkey was represented by Mehmet Polat (oud), Great Britain by Meg-Rosaleen Hamilton (viola and violin), Iran by Mehdi Aminian (ney), Germany by Ruven Ruppik and Spain by Aleix Tobias Sabater (percussion, both of them). Romanian themes like Ciuleandra or Până când nu te iubeam, both made famous by the interpretation of Maria Tănase, were sung in a new harmonic and rhythmic interpretation, inspired by the musical traditions of each of the protagonists.
At the end of the Roots Revival Romania concert at the Radio Hall we asked Monica Mădaș what she thought about how the tour had gone:
'It was good, although we didn't have much time, because we met in Bucharest and prepared two hours' worth of music in just six days. I was glad to meet again musicians that I worked with last year, to meet other musicians, as well, to collaborate with Maria Casandra Hauși, who has an extraordinary voice that I admire, I was glad to approach songs by Maria Tănase, each of us in our own way. I can tell it was good by the reaction of the audience. We had a great team that supported us and now, after our last concert, I'm still 'there,' I feel like I'm going to walk onto the stage again. It was an intense spell of time and I'm still in a daze, but I'm very happy.
Andreea Chiselev
Translated by Irina Borțoi and Elena Daniela Radu
MTTLC, The University of Bucharest