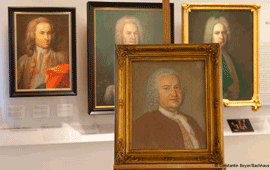 A New Portrait of Bach - Rediscovered
Wednesday, 12 March 2014 , ora 10.10

On 6
th
March, 2014, the Bachhaus in Eisenach – a museum dedicated to the great composer – announced that it had purchased a portrait of the Cantor for fifty million euros. The piece, made using pastels and originating around 1730, when Bach was approximately 45 years old, is mentioned in the correspondence of Carl Philipp Emanuel Bach, who told Johann Nikolaus Forkel that he had a better portrait of his father, which would be appropriate for the frontispiece of the book that the latter was preparing to edit.
The painting was considered lost throughout the centuries until it reappeared between 1927 and 1928 in the private collection of Manfred Gorke and it has been studied ever since by multiple researchers, the musicologist Charles Sandford Therry being the first one to hypothesize in 1936 that that was actually the portrait of the great composer. A detailed analysis, conducted nowadays, of the materials the portrait was made of places it somewhere during the first half of the 18th century. The study of the garments and the wig that the person is wearing suggests that the picture is a representation of a 16 years younger Bach than the one in the oil painting in Leipzig, which bears the signature of the painter Elias Gottlob Haussmann and has been considered until now the only genuine portrait of the musician from that time.
From 13th March to 1st May this painting will be at the Berlin Cathedral, as part of the 'Real Bach!' exhibition, which comprises documents containing details from the life of the great exponent of the Baroque style. Afterwards, the portrait will reclaim its rightful place in the Bachhaus Museum in Eisenach, so that the two cities with an overwhelming importance in Bach's life – Eisenach and Leipzig – will each have a pictorial representation of the musician from his time.
Radu Mihalache
Translated by Ana Cristina Dumitrache and Elena Daniela Radu
MTTLC, The University of Bucharest