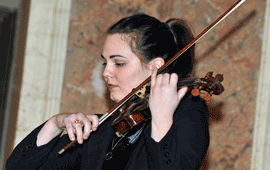 Tuesday Evening Season - 11th March, 2014
Wednesday, 12 March 2014 , ora 10.20

The critical opinion regards Simina Croitoru, the violinist, as a young lady with an exceptional talent. She appears to be a confident musician who has a smooth and relaxed way of performing entire pieces of virtuous and expressive music. Undoubtedly, she managed to fill the Small Hall
of the Romanian Athenaeum
with a large and enthusiastic audience, not only because of her famous name, having a family history of musicians, but also because of her increasing progress as a musician – Simina Croitoru being an experienced soloist.
The skilful pianist, Viorica Boerescu, who has evolved throughout the years with Simina Croitoru, praises her talent: She is an extremely gifted young girl and a very fortunate one, having the support of her family, they too being musicians. She has evolved beautifully and I am pleased that she is now performing with pleasure sonatas as well. She is an energetic, mature, high-class person whose performances have a great deal of finesse. It is a pleasure working with her.
Simina Croitoru, who possesses musical sensitivity and has developed her violin skills due to the thorough hours of practice, is performing on the Tuesday̕ Evening Season a diverse and difficult repertoire, which contains three sonatas: the Devil's Trill Sonata, by Giuseppe Tartini, the Kreutzer Sonata, by Ludwig van Beethoven and the Sonata for Violin and Piano in A major, by Cesar Franck.
Feeling extremely happy because she managed to perform successfully such a difficult repertoire and hide her exhaustion, Simina Croitoru ended the concert with Fritz Kreisler̕ s Liebesleid, at the audience̕ s request and confessed that: Each performance gives me great pleasure, no matter what I am playing, but mostly the sonatas, discovering lately many different sides of this type of music, which I have not known before. As for the repertoire, we tried to create somehow a gradual musical diversity, moving from Tartini towards a more balanced Beethoven and then towards a more fickle Franck, so to speak.
The concert was also attended by her proud father , Gabriel Croitoru, who made an honest statement about his daughter̕ s progress as a violinist: I am glad that we are a family and that we try and succeed most of the time, to convince more and more of those who make a career as instrumentalists, to perform in as many concerts as they can. The audience has been extremely enthusiastic and calm, although the repertoire was quite tiring, it seemed too long. I would not have performed all three sonatas in the same evening, but of course, when you are young you see things differently… This is her moment, the time to show all that she has learned and I repeat, I am glad that we, the professors, have the opportunity to teach such young gifted people.
Due to her increasing progress as a violinist, Simina Croitoru proved that she has the right qualities to have a promising career in music and to perform on the biggest concert stages worldwide.
Jeanine Costache
Translated by Ana-Maria Florea and Elena Daniela Radu
MTTLC, the University of Bucharest