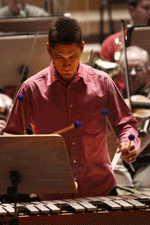 The International Percussion Music Radio Festival Comes to an End
Monday, 17 March 2014 , ora 8.48

The first edition of the International Percussion Music Radio Festival came to an end on Saturday evening and it was a real success. For six days, the Radio Hall was a magnetic attraction for hundreds of people who were curious to see and to listen to the most exotic percussion instruments. For a week, percussion artists from Japan, Taiwan, Belgium, France and Romania played on the stage of the Radio Hall every evening. Ioana Goia's coverage contains a few impressions after the concert.

The festival has come to an end. What do the organisers think about it?
Alexandru Anastasiu: It was extraordinary, as I expected, with people of different cultures, which was what we wanted, with a varied repertoire, so basically we created what we wanted, a world of the sounds of percussion instruments.

It is equally important to find what the audience feels. These were the impressions at the end of Saturday evening's gala:
It is something special. You can admire their dexterity, their vigilance, their inner beauty and everything they express. It's modern, it's something that the audience must like.
'I am very happy to listen to artists and compositions that the Romanian audience does not have the chance to listen to very often.'
'I find it really interesting. I have never been to such a concert before and I really liked the idea, so I came because I wanted to try something new.'

Did you like it?
'I liked it very much.'
'I thought the idea to come to such a concert was very interesting, because I've been to all sorts of performances, but not here, and I liked it more than a piano concert, because there's more action, it's more dynamic than a classical concert.'
'The guests were exceptional, and the percussionists of the Radio Hall were just as great. You could tell they have worked very hard and rehearsed a lot, but their talent and dedication made a difference. They are very good and the initiative was obviously a great idea.'
'The festival was a brilliant idea. I am a percussionist myself and I've waited for this for years. It was extraordinary to be able to watch true professionals.'
'I am glad that Radio Romania offers music lovers such a festival. The fact that the audience came here tonight proves that quality products are successful and that they eventually contribute to the radio's mission as a national company; a type of product for each category of the audience. And we can see young people want such concerts.'
Ioana Goia
Translated by Irina Borțoi and Elena Daniela Radu
MTTLC, The University of Bucharest