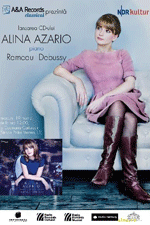 Alina Azario's First Album Release: 'Rameau-Debussy'
Thursday, 20 March 2014 , ora 9.19

The young pianist wished to release her first album recorded at
A&A Records
in her native country.
Yesterday, 19th March, 2014, in Bucharest, at the Cărturești bookshop, located on Pictor Arthur Verona Street, Alina Azario`s first discographic work was released. The Rameau - Debussy album enjoyed a double release, being also the first musical work of the A&A Records` Classical section. The recordings were made at the NDR Kultur studios in Hamburg, having Helmut Burk as the sound engineer, his name being related with numerous discographic releases of some famous performers such as David Garrett. The media partners of this project are Radio Romania Music and Radio Romania Culture.
The album release took place in the cosy Cărturești tearoom and was not even remotely a typical, protocol public event, but a relaxed, friendly, informal meeting. Of course, those who communicated with the audience were Alina Azario, Liliana Staicu, the director of Radio Romania Music and Andi Enache, the executive producer from the A&A Records. Some aspects of this ongoing project for over a year and a half had been discussed, as well as the technicalities, such as the recording techniques and the plan to release an electronic version of this album. The pianist described the way she linked the musical works on her album, how fond she was of Debussy's music, especially of Préludes, celebrating this year 100 years since it was released. On the other hand, Rameau is also a prominent figure in the French music history, he was an inspiration for the Impressionist composer and this year we celebrate 250 years since he passed away.
You could listen to the Rameau - Debussy album on Radio Romania Music Interviews and it is included in the campaign Vote the best classical album of 2014, which you can access on the website: românia-muzical.ro.
There are several opinions about this discographic work and its release:
The pianist Alina Azario's opinion:
This is a special event for me. I'm not used to talking about my album to the audience before they have listened to it. I hope that we have done a good job and that the listeners are going to be pleased with the outcome and that we will receive positive feedback. I would like to see other projects take shape in our country. I am growing fonder of Romania each day and I will return with more projects. I am thinking about organizing a Classical Music Festival in Sibiu, in the year 2014 and of course, if I am going to have any good ideas, I will return gladly.
Liliana Staicu, the director of Radio Romania Music said:
Alina Azario made an extremely inspired decision by launching herself in the musical world with Rameau and Debussy's works, but also an out of the ordinary decision, because not many young instrumentalists focus on the work of the French Baroque maestro, famous for his theatrical works. Choosing this album for her first discographic release, Alina Azario shows that she has been influenced by the French music and succeeds in impressing the audience with her performance, her pianist skills, with the mesmerizing instrumental colour and timbre. This album should have a special place in every music lover' s home and should make Alina Azario's name famous in the Romanian artistic world and hopefully at an international level, as well.
Andi Enache, the executive producer from A&A Records said:
Being new in this business - both we the people at the recording studio (the Classical section) and the artist - it has been pretty tough and has taken us one and a half year to finalise our project, but because of our ambition and hard work, we managed to carry through this project that has turned out to be something extraordinary.
Radu Mihalache
Translated by Ana-Maria Florea and Elena Daniela Radu
MTTLC, The University of Bucharest