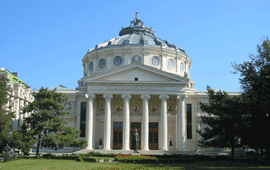 Tuesday Evening Season - 25th March, 2014
Wednesday, 26 March 2014 , ora 8.12

Franck, Enescu and Wieniawski are the composers whose works the violinist Răzvan Anemțoaei chose to perform in his programme, during the Tuesday Evening Season, in the Small Hall of the Romanian Athenaeum, on 25
th
March. Răzvan Anemțoaei is a scholar of the ″Princess Margarita of Romania Foundation″ for the second years in a row, and his record comprises over 30 awards, received from many national and international competitions; he also performed in numberless concerts both in Romania and abroad, in countries such as Israel, France or Italy. Together with the pianist Viorica Boerescu, with whom he performed, Răzvan Anemțoaei proved his virtuosity and expressivity with an infallible technique.
″Wieniawski was a virtuous composer, and his works may impose very difficult techniques problems, but they are spectacular and delightful. I chose to perform the Fiddler from Impressions from Childhood, which recalls the fiddlers from Enescu's childhood; the Sonata for Violin and Piano by Franck is one of the most beautiful sonatas of the whole musical repertoire for violin. I had a very good time performing the Franck's sonata″, Răzvan Anemțoaei stated.
The violinist Răzvan Anemțoaei had a positive evolution, in a programme carefully studied together with Professor Luminița Burcă, PhD. at the National University of Music in Bucharest. She commented on her student's evolution:
"I have known Răzvan for a few years, he is a very responsible, hard-working and ambitions student, eager to get to a high level with his work...we tend to reach a certain level. I can say that, being a student in his second year of studies at theNational University of Music, his evolution has been carefully followed, and it was a constant evolution, not explosive, but, step by step, we will get to higher degrees, and I hope he will have a very nice future."
The programme, in which Răzvan Anemțoaei skilfully drove us from the virtuous pieces composed by Wieniawski, to the folk inflections from the Enescu's Fiddler and to Franck's Romanticism, was highly appreciated by the public, attending the event in the Small Hall of the Romanian Athenaeum, who called him back on stage for several times.
Jeanine Costache
Translated by Aida BirghilaElena Daniela RaduMTTLC, The University of Bucharest