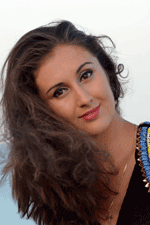 Tuesday Evening Season - 4thMarch, 2014
Wednesday, 5 March 2014 , ora 9.31

This reunion has been as awaited and as pleasant an event can be by the Bucharest audience who filled the
Small Hall
of the
Romanian Athenaeum
, in order to listen once more to the pianist Sânziana Mircea. She is an intelligent and sensitive musician with a soft voice and a great passion for playing which she showed on 4
th
March, 2014, as well, during her third appearance on the
Tuesday Evening Season
. Her name is already famous worldwide in the musical industry, having a rich staging experience because of the performances she had in various concert halls: in Europe, in the United States and in Japan. Sânziana Mircea had her first performance in Great Britain in 2014, holding a recital on one of the most prestigious concert stages in London, at the
Saint Martin-in-the-Fields Church
. With each recital, Sânziana Mircea shows an extraordinary talent and artistic maturity. Even on yesterday`s
Evening Season
, she had a beautiful and complete performance about which she spoke with the same amount of passion she uses in playing:
I didn't want to lay aside George Enescu's work thinking that if I was going to have my third performance on the Tuesday Evening Season show… I simply can't miss playing at my very best in Enescu`s house. Therefore, I chose to play Piano Suite No. 2 in D major, Op. 10 and the Romanian Rhapsodies, transcribed by Enescu himself - a less performed version of the rhapsodies. I have discovered a great pleasure in playing Mozart lately, therefore I began the concert with one of his sonatas and then I chose other less known musical works, such as, Schubert`s Lieds, transcribed by Liszt. The whole event began with Ave Maria and I thought I had to link it somehow to other musical works, so after a pause I performed Liszt in Venice and Napoli and then Enescu. I felt extraordinary having so many friends and professors around in the concert hall; I felt such positive energy… I was glad to be here again.
Sânziana Mircea confirmed and thrilled the audience once more, her performance being repaid with enthusiastic applauses that did not stop until the talented musician played the third encore - Libertango by Astor Piazzolla. Among the audience was the pianist Verona Maier, from whom we found out her opinion about Sânziana Mircea:
For Sânziana Mircea the piano is an instrument. It is obvious that this is her way of expressing the music to which she feels connected at such intensity, almost out of the ordinary. The piano…her former repertoires, but also from what I have just heard, I am sure that she won`t stop here. I hope with all my heart that her desire to express herself will drive her to perform on more and more prestigious stages with a wider and more diverse audience and bring the joy I am certain she has brought today to the audience at the Romanian Athenaeum, as well. I repeat, I hope she brings this kind of joy as often as she can.
It is a fact that Sânziana Mircea thrilled the audience, having been called on stage three times for encores and because of her talent, passion, musical sensitivity and excellent pianist skills and rigorous rehearsals, this event has been enthralling.
Jeanine Costache
Translated by Ana-Maria Florea and Elena Daniela Radu
MTTLC, The University of Bucharest