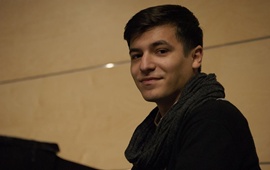 Tuesday Evening Season - 1st April, 2014
Wednesday, 2 April 2014 , ora 9.20

Participating in the
Tuesday Evening Season
for the second time brought the pianist Abel Corban, a large audience that filled the Small Hall of the Romanian Athenaeum on 1
st
April. Abel Corban showed experience and sure-handedness, owing, in part, to the confirmations that are important for his career. He won the competition 'Tribute to Romanian Cultural Values,' organised by the Sergiu Celibidache Foundation, then the scholarship of the Romanian Musicians' Union and the scholarship that is part of the 'Young Talents' programme of the 'Princess Margarita of Romania' Foundation.
During his music journey from Baroque to Romanticism, Abel Corban started with Bach, passed through Beethoven's and Scriabin's works, and ended with Liszt. It was an ambitious programme, rendered with great pianistic technique, with a lot of expressivity and maturity. Happy and nervous at the same time after his well-deserved success, Abel Corban declared:
'I feel very happy to have played to such a large audience tonight. I chose this repertoire because I think it is representative of me, I wanted to bring the audience to contrasting states of mind, from Bach's purity, Beethoven's melancholy and playability to Liszt's Mephistophelian style and I hope we have all gained something tonight…'
'A young artist going beyond the stage thanks to the quality and novelty of his interpretations…' This was how the reputed pianist Viniciu Moroianu recommended his student at the Bucharest University of Music last year. He was pleased with the evolution of his disciple and he remarked:
'He is a young talent with a nice evolution and he is more than promising at the moment. He brought a very ambitious programme and tried hard to play it like this. I believe he has a larger scope now and he is calmer, he can build on larger spaces and play with more variation and colour and… certainly his experience on stage, ceaseless and assiduous, will be important in the coming years. He is a young man worthy of all our hopes.'
The pianist Abel Corban is an intelligent musician who has become more mature, showing warmth and great pleasure to play, which he generously shared with the audience, who rewarded him with long applauses, calling him back on stage several times.
Jeanine Costache
Translated by Irina Borțoi and Elena Daniela Radu
MTTLC, The University of Bucharest