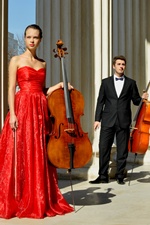 Tuesday Evening Season - 8th April, 2014
Wednesday, 9 April 2014 , ora 8.12

'Among the joys of a music teacher there is the fulfilling of their profession through the interpreters that they have hoped would reach the highest possible level; and these young people prove it by everything they do, and they do a lot of things, they have a lot of concerts and they create and search for their repertoires, they diversify it so that they could enjoy the music and make their listeners enjoy it, too...' - Such was violinist Marin Cazacu's recommendation for his students who are the members of the Duo Jaya.
We can say that the 'dialogue' between two cellos, offered by the two musicians at the Small Hall of the Romanian Athenaeum, was marked by the passion of offering quality music to their audience. Why 'Duo Cello Jaya'? The protagonists themselves - Ella Bokor and Mircea Marian - give us the explanation.
'Choosing this name occurred by chance because, due to the short time we had until the following recital, when we were asked to have a name, we looked up gods' names on the Internet and in the dictionary and we chose the name of a goddess of victory in the Hindu mythology - the goddess Jaya… We were very pleased to play on one of the most important stages in Romania, and we were equally happy to have with us the members of the 'Violoncellissimo' Ensemble whose members we are , as well … It was a nice preparation."
Since 2008, Ella Bokor and Mircea Marian have started 'Duo Cello Jaya' - a novel ensemble, which thanks to its diverse repertoire presents music rarely found in concert halls, from Baroque to jazz and from original scores to arrangements for two cellos. Two musicians with a large stage activity, acquired both individually and as a chamber music ensemble, the cellists Ella Bokor and Mircea Marian showed mastery, passion and professionalism in a varied repertoire. On 8th April, Ella Bokor and Mircea Marian chose works by Glière, Popper and Sollima, a programme mostly selected owing to their teacher, the cellist Marin Cazacu:
'Ella Bokor and Mircea Marian are two interpreters I support because I like them very much, they are two already formed personalities of Romanian music and I am very happy for their successes. They have played in very many prestigious halls, not just in Romania; they have been abroad and the programme they presented tonight was such a beautiful one… works by Reinhold Glière - 10 special compositions for cello, a suite for two cellos by David Popper and a composition by an Italian cellist, Giovanni Sollima - Violoncelles, vibrez. The two cellists' interpretations sounded so wonderful, each of them with their own specific and nature. I am proud and happy to know that this generation of young cellists continues a performance path that can be seen as a model for younger generations of cellists.'
The two instrumentalists Ella Bokor and Mircea Marian, the members of the 'Duo Cello Jaya' ensemble offered a passionate and lyrical dialogue, completed in the second part of the evening by eight musicians of the 'Violoncellissimo' Ensemble; and the applauses of the audience of the Tuesday Evening Season matched their performance.
Jeanine Costache
Translated by Irina Borțoi and Elena Daniela Radu
MTTLC, The University of Bucharest