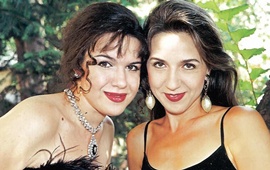 A Family Recital
Tuesday, 8 April 2014 , ora 8.06

Although earlier than the last years, the Easter concerts began in the elegant ambiance of the Cotroceni National Museum with a family recital, soprano Irina Iordachescu and her sister, mezzo-soprano Cristina Iordachescu- Iordache, in the company of the refined pianist Verona Maier offering a varied programme including famous or less recognized works from this sacred repertoire, sequences from operas and musical pieces that are welcome at the beginning of spring.
An extremely large audience listened to Irina Iordachescu performing an aria from Serse by Handel, actually written for a deep voice, three versions of Ave Maria, signed by Schubert, Bach- Gounod and Mascagni (on the music of the spectacular Intermezzo from Cavalleria Rusticana) and equally acclaimed by the large audience, followed by Il Canto Di Mignon by Frontini, an Italian composer whom she assiduously promotes, opting next for arias from Puccini's Gianni Schicchi and Catalani's La Wally which although it did not really fit the spirit of the evening dedicated to prayer and to the joy brought by nature's revival, were performed with a beautiful voice, managed with a great deal of attention, conferring an expressivity which was expected to highlight the ardent feelings, extremely appreciated by the audience.
More reserved, but having the same pleasure of singing and with a remarkable delicacy, Cristina Iordachescu showed that her heart-warming and gentle voice has not lost its value, even though, unfortunately, it is so rarely heard on the concert stage, performing Caccini's Ave Maria so graciously and discretely, two arias from Stabat Mater, those by Vivaldi and Pergolesi, Handel's striking Lascia ch'io Pianga, the aria from Rinaldo, presenting us probably for the first time with a fragment from Ferrandini's Il pianto di Maria cantata and moving, towards the end, from an atmosphere of introspection and silence to the lyricism and the exuberance of some Italian miniatures - Respighi's Notte and Tosti's Aprile.
Naturally, we also listened to their duets, their striking covered transmission and warm sounding voices completing each other in an inspired manner in pages from Pergolesi's Stabat Mater, as well as, at the end of the recital, in The Barcarolle from Offenbach's The Tales of Hoffman, performed for the second time at the instances of those who had lingeringly and enthusiastically acclaimed them.
It was a particular successful evening where he had the opportunity to listen, with the greatest of pleasure, to opuses which bring the house down all over the world, bringing sones of prayer and light on the eve of the Holidays, performed by soloists whose concerts mean every time the encounter with beauty, with the artistic creed rendered with ingenuity and with an elaborate sincerity, now taking advantage of the collaboration with a pianist who knows how to sustain the soloists' endeavour with efficiency, professionalism and involvement, also underlining a round touch and especially a particular stylistic knowledge, but also the science of accompanying, in the true sense of the word.
Anca Florea
Translated by Petronela Moroșanu and Elena Daniela Radu
MTTLC, The University of Bucharest