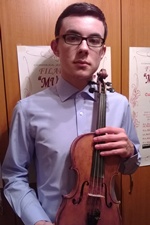 Tuesday Evening Season - 6th May, 2014
Wednesday, 7 May 2014 , ora 8.55

On Tuesday, 6
th
May, the Small Hall of the Romanian Athenaeum was, once again, a 'launching platform', this time for
Mihai Andrei Radu
, a violinist who performed together with the pianist Olga Babagian. The young violinist, aged 18, is guided in his activity by Dan Florian Zaharia - a professor at the 'Bălașa Doamna' High School of Fine Arts in Târgoviște. The violinist's native talent, expressivity and passion have been acknowledged in a lot of national and international competitions, where he won awards: for example, Third Prize in the 'Remember Enescu' International Competition (Sinaia, 2011), First Prize and the Special Prize in the 'Cornelia Bronzetti' International Competition (Câmpina, 2012) and First Prize in the 'Paul Constantinescu' National Competition (Ploiești, 2013).
The evening unfolded under the sign of youth, with the awkwardness and the emotions inherent to a first-time performance on the stage of the Small Hall of the Romanian Athenaeum.
'It is the first time I have played on this stage; it is a true honour and I hope I will have the chance of giving other concerts here…I wanted to alternate the composers, from Baroque to Modernism, and I also wanted to bring two Romanian composers on the stage of the Romanian Athenaeum…'
More and more people who are interested in young talents pay attention to the musicians on the bill of
Tuesday Evening Season
; professor
Dan Florian Zaharia
, who is guiding Andrei Radu in his activity, was in the audience:
'In general, our quality standards have been met, except for small mistakes which are always unexpected, so nobody is prepared for them. The starting point was Johann Sebastian Bach; then, the performance went through Pre-Classic to Romantic and Modern and, last but not least, Romanian works. Approximately two thirds of the recital tonight was dedicated to Romanian opuses: Paul Constantinescu, Dumitru Capoianu and, for the encore, two of Béla Bartók's
Romanian Folk Dances
…I can see a beautiful career ahead; he is now in his formative years, he has started to add character and personality to his musical expression…'
Mihai Andrei Radu is a violinist with a good musical training, with a rather precise intonation, good technique and expressivity; once he gains stage experience, his performance will be remarkable. We will certainly hear more of his interesting interpretations.
Jeanine Costache
Translated by Mihaela Olinescu and Elena Daniela Radu
MTTLC, The University of Bucharest