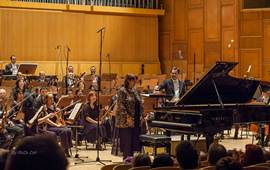 Two Musical 'Jewels' at the Radio Hall
Monday, 19 May 2014 , ora 9.19

On Friday evening Sébastien Rouland conducted the National Radio Orchestra. The space of the Mihail Jora studio was not enough, the numerous audience being attracted to the concert hall by two of the most well-known classical scores: Beethoven's
Emperor Concerto
and Ravel's
Bolero.
The pianist Dana Borșan was the soloist.
Ludwig van Beethoven's
Emperor Concert
was the first musical 'jewel' that the soloist of the Radio National Orchestra - Dana Borșan - proposed within the concert given at the Mihail Jora studio on Friday evening. Sébastien Rouland was the conductor.
Dana Borșan's version for the fifth and last piano concerto composed by Beethoven won the appreciation of the many listeners in the Radio Hall:
'The concerto is splendid in itself, and Dana Borșan is amazing.'
'It sounded brilliantly. I like Beethoven very much, I like Beethoven's
Emperor Concerto
a lot and I think I never miss an opportunity to listen to it live. It is a concerto that I really love.'
After the interval there were two works composed by Maurice Ravel -
Spanish Rhapsody
and the famous
Bolero.
'Splendid. The concert was very beautiful. The orchestra was amazing. I admired the conductor and the orchestra responded to his requests very well. I thought the result was very good. I am very satisfied with the way it turned out.'
'It was truly impressive; a fantastic conductor with an amazing orchestra.'
'This was something special. To me, listening to
the Emperor's Concerto
and, then, to
the Bolero
was a wonderful surprise.'
The stormy applause lasted minutes on end, from an audience which had been delighted with the programme of the National Radio Orchestra.
At the end of the concert, the conductor
Sébastien Rouland
stated:
"Collaborating with Dana Borșan is a pleasure. We first met within the 'George Enescu' International Festival…she is an amazing artist. I am very happy with the way the entire week went, working with the National Radio Orchestra. In my opinion, we paid attention to every detail of the works. They responded very well to my suggestions. The audience was amazing. The applause at the end was a reward for all the hard work. It was a true joy."
Lucian Haralambie
Translated by Mihaela Olinescu and Elena Daniela Radu
MTTLC, The University of Bucharest