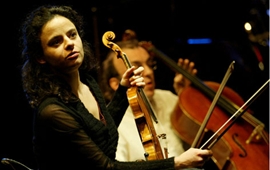 From Modern to Contemporary in Two Days of Great Music
Wednesday, 23 July 2014 , ora 8.52

On Friday, 19
th
July and Saturday, 20 July, the
Țintea
Music Festival moved to Bucharest. This is an annual festival that has reached its sixth edition, which is coordinated by composers Adina Dumitrescu and Dana Cristina Probst. Most of the concerts and workshops usually take place in the Țintea district of the town of Băicoi; but for two years, the festival has expanded to Bucharest, as well.
The two concerts hosted at the Cantacuzino Palace and the Suțu Palace in Bucharest, presented a number of contemporary works performed both internationally and in Romania for the first time. They were interpreted flawlessly - and I hasten to say, from the very beginning - by violinist Noemi Schindler and cellist Christophe Roy. The latter is the founder ALEPH, the prestigious ensemble specialized in modern and contemporary music.
We know that sometimes this kind of music is quite hard to digest, but when it is interpreted with professionalism and commitment, it makes sense and the composer's intentions are really brought to light. It is quite a challenge, especially since there was a large number of musical pieces performed for the first time. So, we can conclude that the Roy-Schindler duo treated them carefully studying them long before the two concerts and interpreting them with the utmost care for every detail.
Now that I have outlined the interpretation, I am going to tell you a few details about the works: they were signed by Adrian Pop, Ulpiu Vlad, Adina Dumitrescu, Dana Cristina Probst and Sebastian Dumitrescu. Each evening's programme ended with a work representing the beginning of the twentieth century: on Friday evening it was the Sonata for violin and cello by Maurice Ravel, and on Saturday, the Duo for violin and cello by Zoltan Kodaly.
The contemporary works covered several generations of composers, from the already famous one to the younger ones. How was the ȚinteaMusic Festival seen from the other side, i.e. from the stage? I invite Christophe Roy and Noemi Schindler to share their impressions in an interview:

What are your impressions after the two-day concerts?
Christophe Roy: I have just stepped off the stage and we are still under the influence of adrenaline. I am enthusiastic about these new scores I discovered. We have enjoyed the great reception from the audience, a formidable public and we are thrilled by the warmth that surrounded us.

Many of the works you have interpreted during these two days have been performed for the first time. What inspired you to interpret them?
Noemi Schindler: Each score is a world and this world has inspired us. Indeed, the world of contemporary Romanian compositions is very different from the French one. It is also a matter of trends; when we interpret works composed by young Parisian composers we realise that they have a different style. We are happy that we have opened our way to a different world and we can play works by contemporary Romanian composers. It has enriched us.
Petra Gherasim
Translated by Elena Daniela Radu
MTTLC, The University of Bucharest