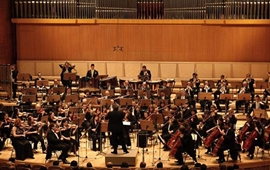 The Finalists of the 'Little Paris' Skill Course in a Concert at the Radio Hall
Monday, 1 September 2014 , ora 9.06

During this weekend, the Radio Hall was the host of a unique concert. Five young musicians, finalists of 'Little Paris' conducting course, which took place between 26th - 30th August, 2014, could be seen at the music rack of the National Radio Orchestra. Lucian Haralambie gives us details about this event:
Saturday evening, the sixth edition of 'Little Paris' conducting course, came to an end. The 'Mihail Jura' studio was the host of the concert performed by the National Radio Orchestra, an ensemble which was conducted by the five finalists of the skill course, assisted by Wolfgang Döerner. In front of a not too large audience, there were contestants from Serbia, the Czech Republic, China, Bulgaria, Slovenia and Austria.
The new generation of conductors represented by Ana Cosovic, Fey Ho, Dimitar Kosev, Cort Lasbacher and Markus Winkler proposed a programme of works by Antonin Dvorak, Wolfgang Amadeus Mozart, Ludwig van Beethoven and Felix Mendelssohn. The young musicians' performances were appreciated by the audience, one of which was the conductor Nicolae Racu:
'Each one of them has his qualities and the faults characteristic to young people , but probably, in the future, if they choose this job, they will be able to create a very beautiful thing. Having an orchestra is the most important thing because until now, in this conducting activity, no one has invented simulators. The orchestra is a living organism and this was forgotten neither by the older maestros nor by the younger ones. Each orchestra has a certain personality, a certain way of being.'
The conductor, who assisted the skill courses, the Austrian musician Wolfgang Döerner, offered us his conclusions for the sixth edition of 'Little Paris' conducting course:
'From my point of view, it is very important that the conductors could work with an ensemble as important as the National Radio Orchestra because the feedback which the students received from the members of the orchestra was extremely important. The five of them, I could see today performing, are very talented. They have made a huge progress in only one week. It truly is a challenge to be in front of an orchestra made up of professionals. As a student, you rarely find an opportunity similar to this one. There is another sound and a totally different working method. I am very pleased with what I have achieved during this period. I have tried to show them how one can work with the orchestra concerning every aspect. I am equally pleased with the fact that many students from many foreign countries, from beginners to experienced conductors, attended the course.
Lucian Haralambie
Translated by Corina Gidea and Elena Daniela Radu
MTTLC, The University of Bucharest