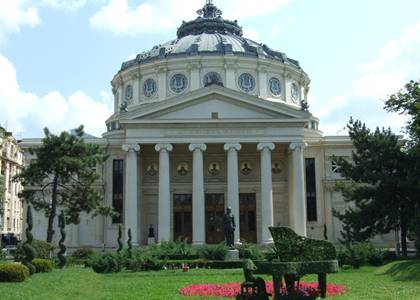 Tuesday Evening Season - 4th November, 2014
Wednesday, 5 November 2014 , ora 10.25

The Iberian atmosphere in the Little Hall of the Romanian Athenaeum was brought on 4
th
November by six of the students of the National University of Music Bucharest, guided by the much appreciated mezzo-soprano Claudia Codreanu. The
De donde venis, amore?
recital -
Where did you, love, come from?
continued the 2014 - 2015 season of the
Tuesday Evening Season
programme. Along with the young performers, Inna Oncescu accompanied them on the piano and Claudia Codreanu shared the emotions with her students from the audience. With more or less convincing interpretations , with some vocal and interpretative bents which deserved future polishing, five sopranos and a mezzo-soprano offered zarzuelas - an accessible and beloved genre in Spain which was received with real interest by a surprisingly large audience in the Little Hall of the Romanian Athenaeum. A 'high-class recital΄ - I would call it, with a beautiful theme, detailed by the one who had it created for her students - mezzo-soprano
Claudia Codreanu
: ΄The recital is intended to invite the audience to a foray into the Iberian lands and through some exquisitely beautiful, attractive works, make known its music. Each presence on stage brings something new in terms of experience and emotion, and of course, we will continue to go on our path, a long and difficult one.΄
Amaia Arrieta Vargas, Cristina Vasilache, Cătălina Antal, Andreea Panu, Oana Neagoe and Martiniana Antonie are the names of the six students who tried to give a convincing performance: with good moments - expressivity, musicality, involvement and giving - , and not so good moments, when problems of a technical, intonational, sustenance and breathing nature, loomed. Six singers aspiring to an artistic career, who were lucky to have a generous public which requited their efforts with long applauses - an encouragement for their next appearances on stage.
Jeanine Costache
Translated by Anca Romete and Elena Daniela Radu
MTTLC, the University of Bucharest