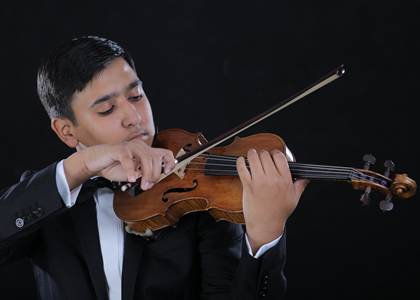 Tuesday Evening Season - 28th October, 2014
Wednesday, 29 October 2014 , ora 13.33

Beethoven, Schubert and Brahms are the composers which the violinist Mircea Dumitrescu selected for his programme presented during the
Tuesday Evening Season.
His virtuosity and lyricism were combined in his recital, which took place at the
Little Hall of the Romanian Athenaeum
on 28
th
October. Mircea Dumitrescu is a violinist who thinks through sounds, a young instrumentalist whose native talent, expressiveness and passion are acknowledged, due to the more than 50 national and international competitions, in which he was awarded every time. Mircea Dumitrescu received a grant from the
Princess Margarita of Romania Foundation
for three years; he is a musician with an important performing activity, both in Romania and abroad; he has been constantly holding recitals in Germany - at the
Philharmonic Hall of the Gasteig Cultural Centre in Munich
and at the
Bald Tölz International Festival.
Last Tuesday evening, Mircea Dumitrescu showed confidence, easiness and lightness when performing the virtuoso passages and, last but not least, expressiveness. Still excited after a strenuous recital, the young violinist explained:
"- I think this programme represents me, it is extremely difficult, meticulous, especially the Violin Sonata No.3, by Brahms … I am happy with my tonight's interpretation, but I think there is still room for improvement … This has not been my first performance at the Little Hall of the Romanian Athenaeum and I can tell you that I felt wonderful in Mrs. Verona Maier's presence ... "
The talented and experienced pianist Verona Maier, who accompanied Mircea Dumitrescu, spoke with admiration about the violinist's talent:
"First of all, I would like to say that he is surrounded by an army of people who love him very much and this thing can be seen when he is on stage. He is equally confident and balanced, both as a performer and a person. I am sure this comes from the love of all those around him; beyond this love, I think there are a lot of people who are interested in Mircea's performing style. I admit the fact that I, too, have become interested in it; except for some of his native qualities that are beyond any imagination, I dare say, Mircea is going through an educational process that has started embedding his native qualities into an attitude that many would describe as that of a cultivated musician. I think the repertoire he interpreted this evening has shown his tendency to approach things from a less virtuosic angle and with a deeper musical profoundness. As ambitious as his reprtoire might be, he met almost fully, the requirements of this programme. It is a programme which he will, most certainly, repeat with all the affluence, which every moment of his life is going from now on. I hope so with all my heart!"
Violinist Mircea Dumitrescu had an ascendant evolution, in a carefully studied programme, concluded with the lightness of the sonorities of the gypsy songs, by Pablo de Sarasate. The presence of the only 16-year-old young violinist was an extremely pleasant musical "surprise". He confirms his violinistic talent, which he will continue to hone, to make it reach notable performances. We will most certainly hear about his interesting evolution.
Jeanine Costache
Translated by Izabela-Elvira Vațe and Elena Daniela Radu
MTTLC, The University of Bucharest