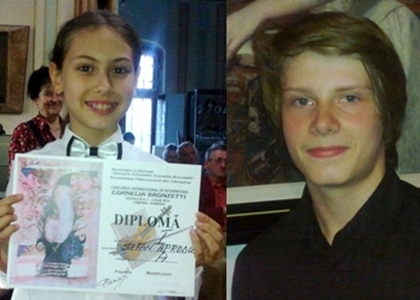 Tuesday Evening Season - 11th November, 2014
Wednesday, 12 November 2014 , ora 10.41

The
Tuesday Evening Season
programme brought forth, on 11
th
November, two winners of the 1
st
prize of the 2014 'Cornelia Bronzetti' International Violin Competition :the young violinists Ștefan Aprodu and Georgii Moroz on the stage of the Small Hall of the Romanian Athenaeum at the suggestion of the violinist
Cornelia Bronzetti
who presented them.
'This evening's performers are two children, aged 11 - Ștefan Aprodu from Bucharest and aged 13 - Georgii Moroz from Kiev. They are both winners of the violin International Competition in Câmpina, in June, 2014.'
Dating from 1990, after eight years, the 'Cornelia Bronzetti' International Violin Competition became biennial and international onits 9th edition being in July, 2014. Among the 1st prize winners of the International Violin Competition in Câmpina, who have an international career due to competitions and concerts, there are also Vlad Maistorovici, Daria Varlamova, Lilia Pocitari, Alexandra Bobeico and Simina Croitoru. Maybe the violinists Ștefan Aprodu and Georgii Moroz will also have a nice career if they continue, with a regular training, to cultivate their talent which was noticed by an important musician in the violinist's world, such as Cornelia Bronzetti.
'First, they are very talented and have an immense potential, they are very skilled for their age, they have already won a lot of prizes and they have had a lot of concerts. I wish them to be healthy and to become known in Romania or Ukraine.'
There was a large public which showed a special interest in Ștefan Aprodu accompanied by Adela Lorinez on the piano and Georgii Moroz who performed along with Lyudmyla Osadcha. More confident in playing his violin was Ștefan Aprodu, with a temper and an intonation much cleaner than that of Georgii Moroz who ventured into a programme which was too difficult for his age, but which showed virtuosity and a lot of expressiveness.
On 11th November we had a recital marked by youth, enthusiasm and hope of a future violinistic career to which Ștefan Aprodu and Georgii Moroz aspire to.
Jeanine Costache
Translated by Ana-Maria Țone and Elena Daniela Radu
MTTLC, The University of Bucharest