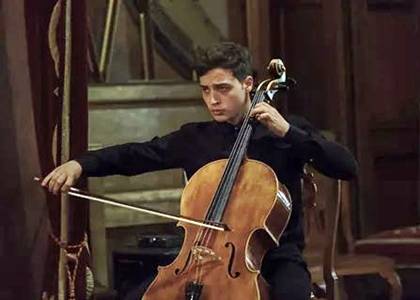 The Tuesday Evening Season - 18th November, 2014
Wednesday, 19 November 2014 , ora 10.45

'…A great talent who approaches this repertoire so beautifully and is dedicated to the cello – Schumann, Dvoűak, Martinù – with fondness, with joy, with a beautiful sound, with a phrasing which leads the public towards the receiving of music as we all want it … a cellist whose evolution I predict favorable, for he is already on the right road. I must mention that he is only in the third academic year, when a lot of information and knowledge is gathered about music and about the repertoires he is preparing, but his evolution is certain and we are waiting for it to explode at some point. Here! The cello has something to say this evening the same way it does on other occasions…'
Horațiu Ludușan is the name of the cellist who filled the Little Hall of the Romanian Athenaeum, making 18th November, 2014, one of the successful evenings of the Tuesday Season. The passion with which he makes music and the warm sound of his instrument got across the footlights, confirming the words with which the most cherished cellist Marin Cazacu introduced his disciple. Horațiu Ludușan was at his first appearance on the podium of the Little Hall of the Romanian Athenaeum and he shared his joy after the long repeated curtain calls: 'I had a very great time with my colleagues and Verona Maier, whom it is a pleasure to play with every time. I have chosen this programme because I thought a compact and animated recital was needed, one that would tell more and bring a smile to the audience's face… I met my colleagues one year before when we played together in an exam at the university and it so happened that we were compatible and thought about giving a recital. We took advantage of this opportunity to play something together.
Horațiu Ludușan performed, in the first part of the programme, together with the experienced pianist Verona Maier, who was pleased to have such a talented musician on the stage:
' I am glad that young Horațiu Ludușan shows that from the very enthusiastic child he was a couple of years ago he has turned into a true young musician, he has become concerned with the sense of his work and I am delighted that he managed to create an absolutely admirable evening. It was an evening out of which a most important aspect was revealed – that the communication on stage is unequalled as far as personal satisfaction is concerned and that it is an admirable performance offered to a public who came to listen to the way in which harmonious conversation can be made between people of different generations, with different education levels, people with very different cultural backgrounds but who, willing to understand one another, willing to kindly and generously make concessions to one another, get to attain perfect harmony in communication.'
In the second part of the programme, the cellist Horațiu Ludușan brough, together with the clarinetist Constantin Urziceanu and the pianist Alexandru Burcă, a chamber opus instilled by Marin Cazacu's maestro, who guides his steps with care and commitment:
'I may say that in a way I suggested he had a chamber music part. By making high quality chamber music afterwards one can develop any instrumental, soloistic and orchestral activity. Chamber music develops an interpreter's qualities the most.'
I may be said that Horațiu Ludușan represents a certainty in a future cello career; he is a musician who handily exploited the technical and expressive means of his instrument, thus proving his passion and professionalism in a repertoire which has much to offer.
And… the ovations of those present at the Tuesday Evening Season made his performance justice.
Jeanine Costache
Translated by Manuela Cristina Chira and Elena Daniela Radu
MTTLC, the University of Bucharest