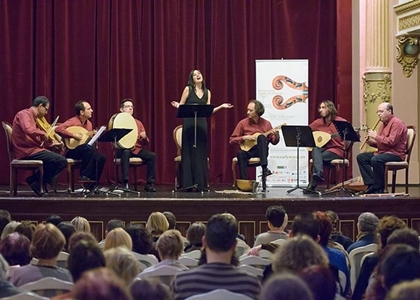 The Early Music Festival in Bucharest at its 19th edition - the finale
Monday, 24 November 2014 , ora 10.21

When we talk about Spanish Reinassance, Tomas Luis da Victoria's name comes to mind almost instantly. Less known composers surrounded by a halo of exotism are those from the 16
th
century. The last concert within this year's edition of the Early Music Festival proved that the music of that century struck a very personal note. The musicians of the
Cinco Siglos
ensemble accompanied by the soprano Delia Agúdez went on stage to perform on Friday, 21
st
November, 2014, and played exclusive works from the
Cancionero del Palacio
collection. It took 40 years of composing to bring the
Cancionero
to its final form, from the late 15
th
century to the early 16
th
century. The collection features about 450 works and therefore is the most important Spanish music manuscript of those times.
The concert took place inside the impressive precincts of the Bragadiru Palace and it occasioned the Bucharest audience to become familiar with less known instruments, such as, the vihuela da mano, the vihuela da arco, bandurria, rabel and colachon. An important part of the story is that most of the instruments were crafted by Jose Ignacio Fernandez, member of the Cinco Siglos group. Part of the music they performed consisted in works composed by Juan del Encina, part of annonymous works and the music succesfully evoked the atmosphere of the Iberian Kingdom ruled by Isabel of Castille. I can say that each song had its distinct folkloric approach, as the flutist Antonio Torralba, the leader of the group, remarked. Even the sadder works and the apparently severe ones have a slight note of exotism and erotism when interpreted by them .
The soprano Delia Agúdez brought a colourful contribution to the atmosphere that settled during the concert. Her voice stamp and her hispanic apprearance assured the audience an interesting audiovisual experience. Songs like 'Triste esta el rey David' and 'Si habra en este baldres' proved the musicians' familiarity with the repertoire. My only reproach, if it could be called that, is that they assumed a mezzo-piano nuance which only varied on a few occasions. It has come to my understanding that this is one of the stylistic devices employed by some early music groups, but this sort of free, improvised music would have deserved a better dynamic.
The Romanian audience nicely welcomed the musicians as usual, with warm rounds of applause, although there was a small number of people in the audience. It is true that the recital had a rigorous historical accuracy; it was addressed to a rather informed audience, but this kind of music would have deserved to be listened to by more people. Nonetheless, the concert was really enjoyable and it closed the Early Music Festival in a cheerful way.
Radu Mihalache
Translated by Ioana Săbău and Elena Daniela Radu
MTTLC, the University of Bucharest