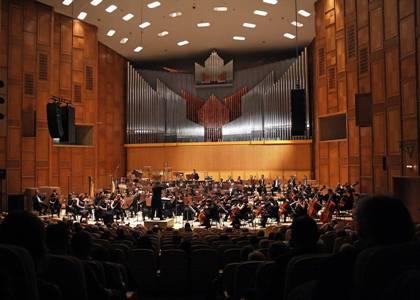 Romanian Repertoire Interpreted by the Romanian Youth Orchestra, Conducted by Cristian Mandeal - Romania's Musical Talents, 1st December, 2014
Tuesday, 2 December 2014 , ora 9.45

There it is a number of interpretations recorded by the Romanian Youth Orchestra and conducted by Cristian Mandeal in the Radio Romania's studios, in 2012. On this album, which is to be released by the 'Casa Radio' Publishing House in December, 2014, there can be found opuses by Theodor Rogalski, Constantin Silvestri, Ion Dumitrescu, Grigoraș Dinicu and George Enescu. Also, Enescu's name appears on the designation of the Romanian Youth Orchestra - Enescian spirit and European tradition project, which was initiated by the cellist Marin Cazacu and the conductor Cristian Mandeal and out of which resulted the ensemble, which is considered one of today's best Romanian ensembles.
The Three Romanian Dances, by Theodor Rogalski were part of the programme of the concert the Romanian Youth Orchestra performed during the Young Euro Classic Festival in Berlin, during the summer of 2014, festival in which this ensemble of young musicians participate for the first time, in 2012.
Founded in 2008, the Romanian Youth Orchestra has registered numerous successes not only on European music stages, but also during the latest editions of the George Enescu International Festival. The ensemble became member of the European Federation of National Youth Orchestras, as recognition of its quality and constant appearances on the Romanian and European music stages.
Throughout the time, the members of the orchestral ensemble have benefited from the guidance of instrumental teachers, among whom we may mention the violinist Liviu Prunaru, the trombonist Ștefan Geiger, the contrabassist Dorin Marc, the violoncellist Marin Cazacu, who is also the founder of the project, and last but not least the conductor Cristian Mandeal, the mentor who taught and developed this orchestra by bringing it to the first place of the Romanian music life.
The National Youth Orchestra will perform during the opening concert of the next edition of the George Enescu International Festival, under the baton of the conductor Kristjan Järvi and which will have Sarah Chang as soloist, on 30th August, 2014.
Alexandru Mija
Translated by Izabela-Elvira Vațe and Elena Daniela Radu
MTTLC, The University of Bucharest