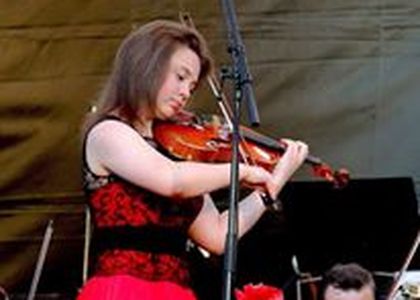 Tuesday Evening Season - 9th December, 2014
Wednesday, 10 December 2014 , ora 9.38

Valuable young artists, who have performed during the Tuesday evening season, will return on the concert stage, with interesting programmes. This is the case of Mălina Ciobanu, who will perform for the third time at the Small Hall of the Romanian Athenaeum; she will present a very carefully elaborated programme, reflecting her interior and artistic evolutional moment, a programme about which the young musician stated:
"I started the programme with a sonata by George Enescu, a work which is very dear to me and I am glad that I have begun to approach this music; then, I continued with a work which I think represents me, the Valse scherzo by Tchaikovsky; and then, I chose to perform the Poème by Chausson, a modern genre for me... . It is a pleasure to be back on this stage and I hope that this Tuesday evening recital series shall continue in the future..."
Since last season, Mălina Ciobanu proved to be a mature cellist, adding several prizes to her artistic path, prizes which she has won in 2014 and a nominalization to "Young Talents" category, as part of "People of our Time" Gala, which will take place on 13th December, 2014. Once again, Mălina Ciobanu proved to be an agreeable stage presence, an extremely pleasant "surprise", displaying virtuosity, passion and sensitivity, qualities which are also appreciated by the pianist Verona Maier, with whom she has performed:
"It is the third time that I perform with Mălina Ciobanu during the Tuesday Evening Season, an opportunity to observe some young musicians' evolution. Mălina Ciobanu started with some virtuouso works, which she performed three years ago, and passed to more serious works; by saying this, I am thinking of the sonatas which were also included; and this evening, she has even achieved a Romanian music moment, the Sonata no. 2 by George Enescu, a work which may have seemed too early to have been performed, but for Mălina it was not. The performance of the Poème by Chausson this evening, proved to me that something is changing in her life and in her attitude towards music; I would not separate this from the fact that I know that lately, she is again advised by Bujor Prelipcean, a musician whose special work I do not need to present at all..."
Together with the pianist Verona Maier, Mălina Ciobanu chose a balanced programme that she displayed with virtuosity and a lot of expressivity and in which we were able to feel the warm and vibrant tone of a musician, confident in her violin.
Jeanine Costache
Translated by Aida Birghilă and Elena Daniela Radu
MTTLC, the University of Bucharest