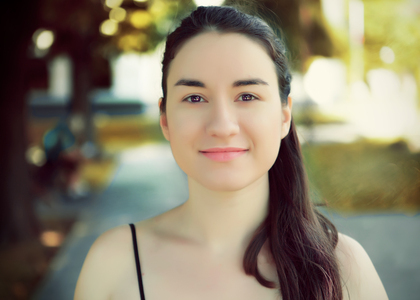 Tuesday Evening Season - 5th January 2015
Wednesday, 7 January 2015 , ora 9.10

A surprisingly mature, with a rich career path as a soloist, interpreter, the pianist Adela Liculescu was a guest of the
Tuesday Evening Season
programme. Her presence on the playbill brought a numerous and enthusiastic public, which filled up the
Little Hall of the Romanian Athenaeum
, on 5
th
January. Her artistic trajectory as a soloist has made her perform on the stages of important concert halls from both her homeland and from abroad, including on the stage of the
Berliner Philharmonie
and the
Gasteig Philharmonie,
in Munich. Adela Liculescu has returned to the
Tuesday Evening Season
programme and made the bold decision to perform an extremely difficult programme, which included the
last of
Ludwig van Beethoven's piano
sonatas, the Piano Sonata No.32, Op.111, and the Piano Sonata in A minor D.845, Op. 42,
by Franz Schubert. Tempting works, outlined with a clear thinking by a musician, who has an excellent pianistic technique:
"It was a recital concept in which I wanted very much to perform and which includes two monumental works with a spot of colour in the middle. Of course, this piano sonata by Beethoven was very modern for its time. Beethoven created sonorities and colours, which were absolutely amazing, impressionistic in arietta, sonorities which we could hear during the performance of the second movement of Liszt's sonata. That is why I wanted to bind together these two works with the piece Reflets dans l'eau, by Claude Debbusy, which exploits exactly these diaphanous and frilly sonorities … I hope I was able to transmit this concept, this idea to the public ..."
A programme carefully put together, where I perceived a palette of nuances, a programme which Adela Liculescu approached with ease, virtuosity and refinement, and which was appreciated by a public who is interested by her evolution and to which cellist Marian Cazacu belongs:
"What a joy to listed to a young artist playing the piano in such a mature manner … I was also impressed by her choice of a programme, because it is not an accessible one to someone so young - I know that Adela Liculescu is only 21 years old - to approach the last of Beethoven's sonatas, alongside the other two pieces … . A fantastic entwining of the maturity she acquired through study, through closeness to the scores and an out of common technical easiness. Adela Liculescu has the capacity to think of each detail of the pieces she plays at the piano … She is an artist whom I see accomplished in the future and who will gladden the soul of many music lovers. "
Performing for the fifth time on the stage of the Little Hall of the Romanian Athenaeum, Adela Liculescu has once again proven that she has all the features of a musician who is capable of building an important pianistic career.


Jeanine Costache
Translated by Izabela-Elvira Vațe and Elena Daniela Radu
MTTLC, The University of Bucharest