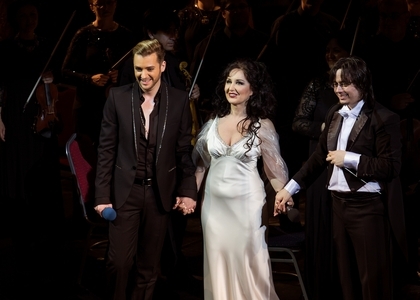 Eclectic Concert at the Beginning of the Year
Friday, 9 January 2015 , ora 14.45

This year, the first concert offered by the Bucharest Philharmonic aimed to be, perhaps, an extension of New Year's traditional ones, easier and more mixed up, yet starting from the ones presented at the Iași Opera, either during summer or during the opening of the current season, the same team 'evolving' in pages of famous works, alternating with famous fado songs. But this time, conductor Gabriel Bebeșelea opted for a balance of symphonic or choral sequences of publicly acclaimed works, the orchestra sounding brilliantly (including its soloist interventions) in its overtures of Verdi's
La Forza del Destino
and
I
Vespri Siciliani
, in its intermezzi of Mascagni's
Cavalleria Rusticana
and Puccini's
Manon Lescaut
, supporting the choir (sometimes covered by brass) in pages of Verdi's
Ernani,
Il Trovatore, Nabuco,
Bizet's
Carmen
or Puccini's
Madama Butterfly
, this final piece being labeled, at least surprisingly, a
Coro a bocca chiusa
, although it was performed as a vocalization, certainly not 'silent' (choir master Iosif-Ion Prunner); for that matter, all of the original titles have been kept, even the Dance of Argon from
Carmen
being labeled...Aragonaise... I find that a useless and 'precious' exaggeration, since the members of the audience only wish to know what they are listening to, without necessarily being... polyglots...
The same 'system' was kept for the arias performed by the soprano Elena Moșuc, a soloist of repute that was thus making her comeback, after many years, on the Athenaeum's stage, tackling a repertoire for 'full' lyrical voices, but with a rich coloratura and assured and spectacular high (or... low) notes, thus making the most of both her sound's quality and of her voice's grace; unlike the way in which she interpreted those arias in her previous performances (in Iași or at the Radio Hall), I noticed with real delight the significant similarity to the Verdian style, giving up elements typical of a bel-canto which has no place in the aforesaid scores. That evening, she chose arias from I Vespri Siciliani (downright funnily printed on the playbill 'Elvirei Surta's aria e la notte/Ernani involami/Tutto sprezzo') and, as an encore, Puccini's La Rondine, also beautifully sung, but with rather Donizettian 'echoes' (portamenti, filatos, crescendo pianissimos, etc.)
Wishing to bring, for the first time in Bucharest, a fado soloist - obviously from Portugal and who, it seems, is very highly rated and with which Elena Moșuchas been working lately on what they have called Operfado - the organizers invited Goncalo Salgueiro to present a number of fado songs, mainly melancholy, with a plethora of 'personal touches' and well-performed ornaments, with a graceful and flexible tenor voice, but continuously making use of the microphone, which, under that cupola, is frowned upon; as a matter of fact, for the genre duets even Elena Moșucused the microphone, although her ample and piercing voice would certainly not have needed such 'help', especially if the Athenaeum's high quality acoustics are to be taken into account. And many were surprised to notice that, perhaps out of condescension towards her stage partner, she made use of the microphone even in the Brindisi of Verdi's La Traviata, which ended the concert, after the soloist aroused popularity by singing, in Romanian, Ciobănaș cu 300 de oi.
Overall, it was a casual evening with fine and well-interpreted music, when the choir and the orchestra of the Philharmonic performed brilliantly, under the baton of a young conductor with a precise and expressive gesticulation, managing to receive a generous phrasing and a rich array of hues, collaborating with an internationally-ranked soprano whom, eventually, the Philharmonic invited to the season, even if for such an eclectic programme, next to an unusual guest in that context, representing, ultimately, a 'fresh breath of air' for many of the music lovers who purchase season tickets and who are perhaps more conservatory when it comes to the Athenaeum evenings, and a pleasant surprise for others. And the quite reticent cheers (often following the soloists to a quite embarrassingly silent exit from the stage) intensified towards the end, the admirers and the ones mesmerized by the performance and perhaps even by that musical puzzle, cheering to the echo for a long time, somehow making up for those unpleasant 'gaps' in the audience's reaction. But... what matters is that this year's first concert brought something different and it was eventually successful. As for the appetite of the well-established Philharmonic's public for such experiments, it remains to be 'tested' on a future 'attempt' of this sort. There are music lovers who also attend the 'commercial' events at the Palace Hall, but when they enter the Athenaeum, they have completely different expectations, eloquent proof being their aloofness and the bewildered disappointment of many.
Anca Florea
Translated by Bucur Adrian and Elena Daniela RaduMTTLC, the University of Bucharest