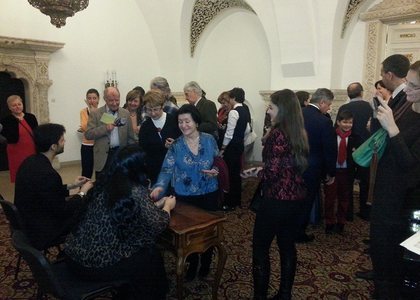 The New Year's Concert at the Cotroceni National Museum
Tuesday, 13 January 2015 , ora 9.10

The two musicians suggested a challenging programme for an auspicious debut in 2015.
Radio Romania Music and the Cotroceni National Museum organized the New Year's Concert, performed by the violinist Răzvan Stoica and pianist Andreea Stoica on Tuesday, 13th January, 2015. A challenging programme for the beginning of the New Year: from the passion of the tango in Astor Piazzolla's music to the romance of the Grand Duo, by Franz Schubert and the virtuosity of Fritz Kreisler's works - was the proposition of the two musicians for an auspicious debut for the year 2015.
Minutes on end of applauses, a lot of joy and good music, these are some of the words which can be used to describe the success of the New Year's Concert, which was performed by the violinist Răzvan Stoica and pianist Andreea Stoica on Tuesday, 13th January.
The recital of the two musicians, which was part of the concert season organized by Radio Romania Music, in partnership with the Cotroceni National Museum, brought to the Cerchez Hall a heterogeneous public, who was extremely excited by the progamme the Stoica duo suggested.
First of all, I think this handshake between the Cotroceni National Museum and the Romanian Radio Broadcasting Company on this matter is sensational. This evening's concert came with a terribly difficult programme. I felt the need to begin this year under such diaphanous fluttering of angel wings. The whole concert was, in all respects, a very special one.
Special! A happy idea, since this hall has such special acoustics.
It was impressing! The violinist was extraordinary. A genuine New Year's Concert. Amazing!
Opuses by Astor Piazzolla, Franz Schubert and Fritz Kreisler were interpreted on the Stradivarius violin, which is dated 1729 and on which the most important young Romanian musicians of the moment has played. These opuses can be found on the Virtuosity & Passion album, which was recorded by the two musicians in the Radio Romania's recording studios and which was released at the end of the recital violinist Răzvan Stoica and pianist Andreea Stoica held.
Adina Rențea, the managing director of the Cotroceni National Museum, spoke to us about the New Year's Concert, after the performance:
The sound of a Stradivarius violin echoed in a 330-year-old hall, in a historic space. It was a well-thought concept, a beneficial conglomerate, and, as you could see in the hall, the public applauded incessantly. I am happy about this concert and I am happy that we will be hosting another concert, a little more special one than the others in our tradition, an old music concert, at the end of February, on 26th.
Lucian Haralambie
Translated by Izabela - Elvira Vațe and Elena Daniela Radu
MTTLC, The University of Bucharest