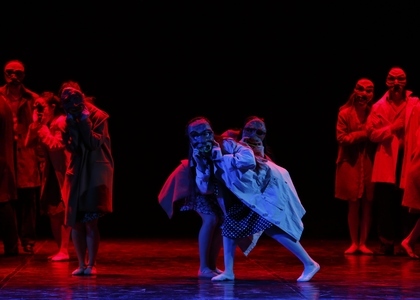 Choreographic Theatre 'Made by' Gigi Căciuleanu
Monday, 16 February 2015 , ora 9.46

It is certain that every time the choreographer Gigi Căciuleanu comes back to his 'home stages', he draws the attention of all dance lovers, who are sure that they will always discover new 'territories' within the artist's reason and imagination through productions that have his unmistakable stamp on them. In this way, Gigi Căciuleanu has delighted the audiences for years with his original manner of expressing through movement a certain philosophy, thought or intense feeling while being, above all, truthful.
The last setting that he staged was the production titled Amor Amores at the National Romanian Opera House in Iași, when he brought on stage couples which fell in love, seeking each other and finally fulfilling their wishes through bunches of red roses. Despite that, on the occasion of Valentine's Day, the maestro 'made his entrance' at the National Romanian Opera House with a national premiere which was inspired by John Lennon's famous song, Imagine all the People - a puzzle made out of ordinary people who could meet or not on the streets or maybe somewhere else, in a common place, who got together and then broke up, who went in pairs or gathered in tight groups which then spread around only to gather together once more, again and again, in a never-ending development of existence, in a universal movement that recomposes itself from everybody's energies in a huge 'explosion of energy' which reveals itself in the way we often perceive it around us and mirror it without even realising it, probably. Gigi Căciuleanu is a show himself, not only because he directed the play and he created the choreography, the sound collage, the light effects and costumes, in this way performing in front of the audience a play which was completely conceived by himself, but also because he brought back the concept of choreographic theatre, which is the best way of describing a style that has been promoted for decades all over the world. Gigi Căciuleanu was the one to declare himself that he came up with a new kind of interpreter - the DanceActor. It is also a production 'made by Gigi Căciuleanu' because the disparate flash-like sequences contain poetry and irony and sensitivity, enthusiasm and sadness, and they also mirror the artist's fundamental traits; creativity and imagination combine with sharpness and a refined culture, but also with a great inner effervescence, while his youth and freshness remain unaltered as he is always seeking for new ways of self-expression. He also permanently challenges the audience to decode the meaning of the things that are happening on stage and to share the simple and intricate feelings of the dancers.
Another fundamental trait is that within a short period of time, Gigi Căciuleanu managed to teach the young ballet dancers at the theatre how to go about the movement of modern dance, how to become DanceActors, how to embody important characters using bodily movements, attitudes, gestures which are sometimes amusing, sometimes mechanical, using broken or steep lines which sometimes alternate with classical ballet elements, other times with street-like walks or stop-motion pictures. This is an ingenious, maybe eclectic mix, but it still matches the main idea which is a human 'puzzle'. The performers who were previously used to evolving in classical ballets have now proved that they can also handle the mysteries of a complete new way of self-expression, through the corporal language conceived by the choreographer. They were visibly excited about this kind of 'challenge' which required their effort and focus and especially a completely new bodily posture. Their performance required the skill of embodying human prototypes as well as becoming 'someone else' from a sequence to another. The entire ensemble (all of the performers deserve to be mentioned here) was impeccably set in a homogenous group and the partners were interacting fluently and without any hesitation to one another, despite the fact that very often there were parallel developments of the actions of couples, on one hand, and tight groups, on the other hand, during short moments which were apparently (or willingly) unrelated, but which were also representative for the energy and existence of each individual among other people, which can accidentally meet (or not).
The costumes were simple, even plain, in order to keep everything ordinary, but there was a common 'overcoat' which was put on and then taken off, slam-shut to the floor, thrown away, hanging on one's shoulders or folded, and it conveyed several meanings which the members of the audience were challenged to find and maybe even identify themselves with some of the characters on stage - is this exactly what the entrance of the ballet dancers suggests? What if they climbed on stage from the hall as if they had parted from the audience as members of it, and then they wanted to maintain the dialogue open as well as an emotional response ?... And of course, there are a few details like the gloves shaped like hands and worn by the actors on their feet, the masks, the radio and cassette players, the hoarse or shouted sounds, the unfinished phrases which sometimes sounded funny, other times gave colour to the pictures that were shown from a dim lit and obscure stage with strong colours which 'dressed' the stage (in black), and in the end the entire group was headed toward the background where strong spotlights lighted up, revealing some sceneries which seemed to have been set for a different play, and after that the dancers came back and almost frenetically stepped over the newspapers they had previously 'read' and torn apart, and then they headed towards… some place carrying their overcoats in their hands or over their shoulders.
The sound collage was extremely rich, surprising, as it went from Figaro to Spanish songs, from lyrical tunes to confusingly rhythmic ones, and all of them were edited and adapted to the requirements of the main idea of the choreography. A well-known song from Maria Tănase was included as well - Gigi Căciuleanu has always been fascinated by her and he often danced on her songs - and everything went along in a fluent way within the main 'theme' of John Lennon's song.
After several rounds of applause, darkness settled over the stage and a discrete light revealed the silhouette of… Gigi Căciuleanu, who 'signed' in his particular way the whole production, through his dance which was such a special one. In a total silence, he went back to movement with his long arms which resembled spread wings lying in stillness or even broken, and then he raised them in a floating-questioning-flying attitude which was so beautiful and expressive.
Having considered all of the above, the artist remains a ballet dancer with an inner elegance and deepness, he always 'speaks' through his movement in the same way he did during the premiere this night, in his unmistakeable manner. He showed that he has a young, maybe restless spirit, and an enthusiasm and commitment, and it was mirrored by the whole ensemble. The dancers and the enthusiastic audience discovered Gigi Căciuleanu at the same time (while the audience watched him in a 'tangible' silence for almost two hours, as long as the programme of choreographic theatre lasted) and all the signs pointed toward the fact that the people in Iași are open to the unknown and also delighted by this sort of uncommon experiences. And that is the reason why I hope that the show Imagine all the People 'made by' Gigi Căciuleanu will still be performed for a long time at the Opera House in Iași. The manager, Beatrice Rancea - the ballet dancer who danced with the choreographer a long time ago in Bucharest, and who has certainly admired him ever since he came back 'home' in 1991 - has invited him to the theatre in Iași, and so a new name of noble descendence has been added to the records of the Opera House.
Anca Florea
Translated by Ioana Săbău and Elena Daniela Radu
MTTLC, the University of Bucharest