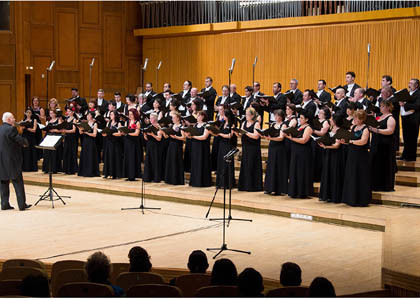 The Academic Radio Choir - Anniversary Concert
Thursday, 19 February 2015 , ora 10.53

On 18
th
February, 2015, the Radio Hall donned holiday clothes. The Academic Radio Choir celebrated 75 years of existence through a special concert. Lucian Haralambie provides details :
Smiles, tears of joy, excitement, applauses that lasted for minutes... Holiday! Last evening , the Academic Radio Choir invited their public to the "Mihail Jora" studio to celebrate 75 years of activity together. Professor Priest Nicu Moldoveanu talked about the importance of marking this event:
"It is important for the general culture of a nation and, especially, for the musical culture. Of course it is! We must remember, at least from time to time, events like this. Founding a choir like this is not easy nor something everyone can do. Dan Mihai Goia is doing a good job."
Founded in 1940, under the lead of conductor and composer Ioan Croitoru, the Academic Radio Choir asserted itself as an elite ensemble, led throughout the years by Dumitru D. Botez, Gheorghe Danga, Dumitru D. Stancu, Constantin Petrovici, Emanuel Elenescu, Alexandru Șumski, Carol Litvin, Aurel Grigoraș and, starting with 2000, by Dan Mihai Goia.
Works of famous composers, such as Felix Mendelssohn, Robert Schumann, Pyotr Ilyich Tchaikovsky, Franz Schubert and Sergei Rachmaninoff were on the holiday programme bill proposed by the Academic Radio Choir. The musical evening went on with the participation of pianist Carmen Săndulescu, soprano Svetlana Sicencova and organist Simona Săndulescu.
A new successful concert of the ensemble led by Dan Mihai Goia, to which the opinions of the audience - some of whom were former members of the choir- bear witness.
Laurențiu Constantin, the director of Medieval Praxis : "I am subjective. I sang in this choir for eight years, which means I cannot be otherwise. It is an ensemble like no other. With all subjectivity, it is something different from what it used to be in master Grigoraș's days. The choir sounds differently, the performing is different. Dan Mihai Goia's arrival definitely brought something new, different from what it used to be in master Aurel Grigoraș's days. The consistency and subtlety of the interpretation of certain pieces is impressive."
Tenor Marius Olteanu: "I am also being subjective and, even if I weren't - I have sung here for eight years - I would still enjoy it. The repertoire gives it a nostalgic vibe as well, but nostalgia is good sometimes. I was used to the Radio Choir's clear sonorities. Choral activity must never die and the choir must be where it belongs. It is, after all, a crucial instrument that has to be brought to the foreground."
Conductor Voicu Enăchescu also said a few words about the Academic Radio Choir's anniversary: "I had the opportunity to witness a touching event. You could tell that the chorists were excited too since they were part of a special moment of the choir's activity. This festive moment was truly uplifting. I could only wish the Radio Choir to reach its 175th anniversary and keep their desire to work on and passion for music. Happy birthday, Academic Radio Choir!"

Translated by Bucur Adrian and Elena Daniela Radu
MTTLC, the University of Bucharest