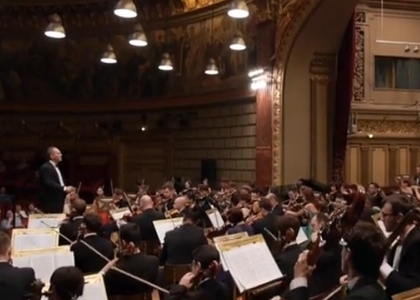 The First Concert of the Youth Romanian-Moldavian Orchestra
Monday, 16 February 2015 , ora 10.23

The famous musical stories of Mozart, Rossini, Beethoven, Rogalski and Liszt reunited at the Romanian Athenaeum on Sunday, 15
th
February, in a concert organized by the '
Romanian Youth
' National Art Centre.
Lucian Haralambie
gives us more details:
"Their talent is noticeable. It is, finally, a success! This is also what we want for all the fields, not only in music. These brothers must be everywhere together forever."
"It was a pleasant surprise to see them together. They synchronized very well. They are young people who truly unite."
Starting two years ago, the collaboration between the Youth Romanian Orchestra and the Youth Moldavian Orchestra came to life last evening through a large common project, hosted by the Romanian Athenaeum. The two ensembles united their forces in a symphonic orchestra of artistic friendship, which celebrated spirituality and the common cultural background. Following the conductor Cristian Mandeal, the young musicians from the two countries proposed an extremely varied programme which contained three overtures by Wolfgang Amadeus Mozart, Gioacchino Rossini and Ludwig van Beethoven, to which they added The Waltz by Eugen Doga, two symphonic sketches by Theodor Rogalski and the symphonic Poem The Preludes by Franz Liszt.
"Wonderful evening! It was a very well organized concert with an extremely varied orchestral virtuosity and a pleasant programme. I was really glad to listen to the two sketches by Theodor Rogalski again, so unjustly forgotten, but reinstated now in the musical circuit;a wonderful success with Liszt's Preludes! Master Mandeal was as he always is! A wonderful evening! It would be worth making an album with this programme. I hope they will sing together again and as often as they can."
The exceptional progress of the Youth Romanian-Moldavian Orchestra was applauded by those in the Big Hall of the Romanian Athenaeum. Amongst them, there was the actor Bogdan Stanoevici, Secretary of State at the Ministry of Culture: "I have always been convinced by one thing and this evening proves once again that if there is something in this world that cannot be stopped by any borders, this thing is called culture and spirituality. This evening's concert is a proof of what the union between spirit and music is. Seeing these young people from Romania and Moldavia embracing happily, also proves that a wire or a stream cannot separate people. This union of the soul is permanent and it can never be taken away by anybody."

Dumitru Avakian, the musical critic, also told us something about the concert:
"The idea of a concert-event reuniting the two young orchestras is excellent. I think this is a great idea and, indeed, it is a spiritual communion that, as you can see, can be achieved by means of music. It is important that this event takes place here, at the Athenaeum, in the heart of Bucharest, in the heart of Romania, with a large public attending. It is a concert which awakens memories and hopes."

The conductor Florin Totan watched the performance of the young musicians:
"I started being jealous of Marin Cazacu and Master Mandeal because they work with young people. Their pleasure of playing and of being on stage is exuberant and very contagious. This is why I kept speaking about the happiness I shared with the Youth Romanian-Moldavian Orchestra on celebrating my birthday and I think this says it all. Thank you."

Translated by Ana-Maria Țone and Elena Daniela Radu
MTTLC, The University of Bucharest