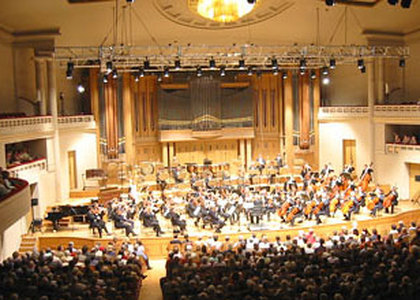 European Music at Bozar
Tuesday, 17 February 2015 , ora 9.10

We are once again in the Henry le Bœuf Hall in the Bozar Centre for Fine Arts in Belgium, once again with the Brussels Philharmonic Orchestra, directed by its musical director, Michel Tabachnik. The programme on 16
th
February, 2015, includes musical pieces by composers from Central and the Eurasian Region.
In the beginning, the Carnival Overture, op.92 by Antonin Dvořák; it may have been just a simple coincidence, but this work made me think about the Catholics who, starting on Wednesday, begin the Easter fasting, a religious period, preceded by a few carnival days. Dvořák's music, very sensitive and beautiful, entirely different from the Czech and American inflections characteristic of him, is almost Classical-Beethovenian here, and only in the middle can we sense the folklore from Moravia and Bohemia.
Pyotr Ilyich Tchaikovskyas a counterbalance to the group of five composers known as the Five, had a lot of Western sonorities and was a "rival" of Rimski-Korsakov and Borodin, who were dedicated to Russian music. Still, Violin Concerto, Op.35 in D major by Tchaikovsky is not entirely Western; the fast parts, the variational moments, the cadenzas, for example, are truly rhapsodic, and even if the second part reminds us of the tragic arias in Mozart's works, it also reminds us, with its melancholy and air of ballad, of well-known characters, experienced in life, from the lyrical creations themselves, so profoundly Russian, composed by Tchaikovsky.
The solist of this concert was Valeriy Sokolov, who in 2005, before the age of 20, won the 'George Enescu' International Competition , the prize for the best interpretation of a piece by Enescu (in his case, the Violin Sonata No. 3, "in Romanian style") and the Enescu Foundation Prize. He played calmly and with dignity, conducting meaningfully each motif. He played carefully and playfully. Valeriy Sokolov also played with courage, with a piercing sound, clear, without losing his thoughts into the romanticism and virtuosity of Tchaikovsky.
At the end, there was another concert, written by Béla Bártok for the orchestra; modern, less pleasant in the conventional way of the term, makes you wonder about the rest of the play. You have to pay attention so you can understand it: Dvořák and Tchaikovsky also make you dream, but Bártok keeps you up minute by minute, and the harmonious parts are so rare that when they appear they are simply like a little oasis of rest. It is true that, at the same time, the Orchestra Concert gives you a feeling of satisfied interest and also a feeling of sonorous fulfillment.
On the entire evening of 16th February, 2015, the brasses, especially the flute and the clarinet were everywhere and very good. Michel Tabachnik conducted the Brussels Philharmonic Orchestra in a relaxed but also strict way, in a multitude of moods, attitudes and sonorous images: gravity, playfulness, concentration, enthusiasm, pathos and rigour, like an organism whose components function at maximum capacity.
Maria Monica Bojin
Translated by Ana-Maria Țone and Elena Daniela Radu
MTTLC, The University of Bucharest