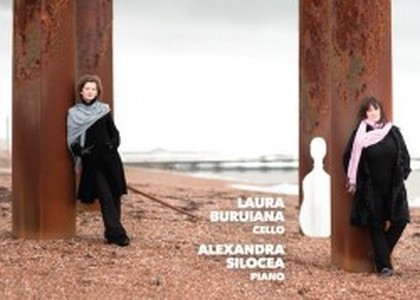 Little Review of Op. 1 for CD with Cello and Piano: Laura Buruianã and Alexandra Silocea play Enescu, Prokofiev and Shostakovich
Wednesday, 4 March 2015 , ora 13.41

p { margin-bottom: 0.1in; line-height: 120%; }
Friendship may take many forms. The one uniting cellist Laura Buruianã and pianist Alexandra Silocea comes in the shape of an impressive recording, on the subject of which Laura Buruianã recently gave an interview for Radio Romania Music.
With a stylistically homogenous repertoire – including works from Enescu, Prokofiev and Shostakovich, all of them contemporaries one to another – the CD is developed by Avie Records and to be released on March the 10th. One of the priviledges of being a journalist is that we sometimes have access to disks before they hit the stage. Recently, I have been able to listen to the recording signed by Laura Buruianã and Alexandra Silocea and I am glad I can share my impressions it occasioned.
The CD opens with Allegro from Enescu's Cello Sonata in F minor, one of the composer's earlier works, written during the first part of his stay in Paris, where he had just been admitted to the Conservatoire. Therefore, late Romantic influences are not surprising – the opening is impetuous, soaring, often reminding of César Franck. Of course, Enescu's individuality can already be felt in the way he synthetizes these influences, skilfully integrating them into a very versatile and elaborated compositional discourse. It therefore bears young Enescu's typical style, marked by impetus and vitality, to which the two artists did great justice.
After this original stop in the Romanian componistic landscape, we move to another geographical area : post World War II Russia. The Cello Sonata in C Major, Op. 119 written in 1949 was inspired by Maxim Gorki's play The Lower Depths. The theater play portrays a gloomy world, of material precariousness, but it eventually sends a positive message. Gorki was very satisfied with Prokofiev's Sonata, as he himself testifies in the exclamatory sentence he signs on the first page of the score. It is a bright work, echoing the play's message ; even in the slow part, it distances itself from everything that might seem obscure. Laura Buruianã and Alexandra Silocea offer a luminous, fresh and playful version of this score.
The CD's final tracks contain a work written by another Russian composer: Dmitri Shostakovitch's Cello Sonata in D minor, Op. 40, first ever to be performed by the composer himself along with cellist Viktor Lubatzki, upon whose suggestion the work was written. Irresistibly charming, the Sonata exploits a rich sonorous pattern, brilliantly performed by the two artists.
The recording's formidable quality can be traced to Laura and Alexandra's incredible virtuosity, but also to the excellent understanding between the two, reflected in every sound. Even though we're different, we're quite a good match – she's more of an Apollonian; I am more spontaneous, more passionate ; but this leads to a good result, I hope'. These words belong to Laura Buruianã who talked, not very long ago, to our colleague, Alexandru Mija, in an exclusive interview.
Indeed, one may notice that the two artists' personalities differ, but their discourses are complementary, leading to a coherent result. The eloquence shown by the artists will etch your fancy, no doubt about that. Cello and piano, engage into a game marked by spontaneity and freshness, tightly bound during the recording. Laura Buruianã fearlessly takes wing into dazzling musical escalations, finding a perfect counterbalance in Alexandra Silocea's fully elegant touch.
This CD will definitely impress you, giving rise to the admiration it deserves. Many of Laura Buruianã's discographic projects were huge successes; let us not forget that the CD she recorded with pianist Matei Varga won first place at the 'Listener's Choice Award' organised by the Cello Foundation, while her recording with pianist Ferencz Vizi was declared the best classical album of 2013, by the Radio Romania Music audience. I am certain that the CD Laura Buruianã and Alexandra Silocea officially release on March 10th will be equally successful. I am ready to vote for it in any contest.
Petra Gherasim
Translated by Bucur Adrian and Elena Daniela Radu
MTTLC, the University of Bucharest