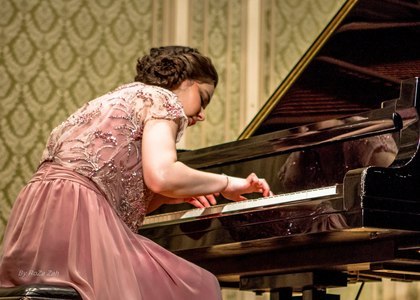 Tuesday Evening Season - 31st March 2015
Wednesday, 1 April 2015 , ora 9.03

Valuable youths who performed in the last season of the
Tuesday Evening Season
will return with interesting programmes to the concert stage. This is also the case of the pianist Daria Tudor, who is already at her third appearance at the Little Hall of the Romanian Athenaeum and who once again displays a carefully rehearsed programme which reflects the moment of her artistic career, a programme in which she has also included a piece by the contemporary composer Artem Nyzhnyk, about whom the young musician stated:
ʻI have discovered this piece at a competition in Vienna; it is the work that was awarded the first prize in the competition. The composer is an Ukrainian, a contemporary; his name is Artem Nyzhnyk and the piece - E.I.H.A - is a title which in Hebrew means The Lamentations of Jeremiah. I wanted to bring contemporary music into my programme at all costs; this is why I have included it… It is a programme I love, a new one, my first grand recital programme…I can recapture myself in all the pieces and I will for sure make progress within it…'
Seventeen-year-old Daria Tudor has added to her rich track record another three prizes from two piano competitions which took place in Italy last year. As a member of the ʻSternin Trio', Daria Tudor has recorded a few chamber works in 2013 and as a soloist she recorded the Concerto Op. 15 No. 1 for Piano and Orchestra by Ludwig van Beethoven, which entered the gold sound library of the Romanian Broadcasting Station. The Beethovenian Sonata Op. 57 in F Minor, ʻAppassionata' was to be found in the programme presented by Daria Tudor at the Little Hall of the Athenaeum on 31st March, 2015, along with works signed by Frédéric Chopin and Artem Nyzhnyk.
And as you can see her accomplishments have not remained hidden to the public so far, the presence of Daria Rudor on the bill of the Tuesday Evening Season has drawn a great number of music lovers who watched her performance carefully. The young pianist shared her joy of being on the stage of the Little Hall of the Romanian Athenaeum:
ʻIt was extraordinary; in fact, it happens the same every time I play at the Tuesday Evening Season. The audience is exceptionally warm, an audience who wants to listen to music and with whom you like working…'
As in her previous recitals, Daria Tudor caught everyone's attention by playing the very first harmonies with a talent sustained by a very good pianistic technique creative intuition, the power of expression she has also proved and last but not least, artistic maturity, among her other qualities.
Jeanine Costache
Translated by Manuela Cristina Chira and Elena Daniela Radu
MTTLC, the University of Bucharest