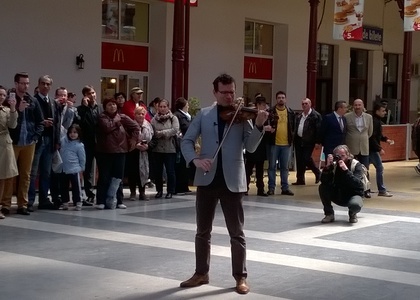 George Enescu's Music Played on the Stradivarius Violin at the North Railway Station in Bucharest
Thursday, 23 April 2015 , ora 9.31

The violonist Alexandru Tomescu has been today, on 23
rd
April, 2015, the protagonist of a sensational recital, hosted by...the North Railway Station in Bucharest. The event took place within
The Day of the Railway Workers
, celebrated from 1999 until this day. The first Romanian railway station administration was create on 23
rd
April, 1880, due to a decree issued by the Prince of Romania, Carol I and I. C. Brătianu. In 1999, at the initiative of the
National Railway Company CFR SA
,
The Day of the Railway Workers
becomes a festive day by law.
To honour this celebration, The North Railway Station in Bucharest has been the most important railway station in a cultural location for half an hour, being animated with George Enescu`s music, that was performed by Alexandru Tomescu on the Stradivarius Elder-Voicu violin.
"This is a great idea. I have requently heard lexandru Tomescu's name, but I have never had the chance to see him in a concert and I am quite delighted. He takes us out of our tedious daily rutine. It`s fantastic. It`s a commendable idea."
The recital had a double purpose, because Alexandru Tomescu announced with this opprtunity the beginning of the The National Stradivarius Tour, with compositions signed by our great George Enescu. About today`s audience at the North Railway Station in Bucharest, Alexandru Tomescu stated:
"The North Railway Station in Bucharest is a familiar place for me; growing up in its neighbourhood, every sound that comes from a train in motion is more than familiar to me, therefore I somehow feel at home here. I was very surprised to see that I have been expected. I have chosen to perform a song that is very dear to me, The Fiddler by George Enescu; the choice is not randomly made, because next week I will start a completely extraordinary tour calledStradivariu-Enescu Experience, during which I will perform George Enescu`s works for violin and piano together with Eduard Kuntz and this Fiddler is the opening song of the tour. Another of George Enescu`s favourite pieces is the Prelude in G minor from the 3rd Partition by Johann Sebastian Bach; and I finished with another piece from George Enescu`s repertoire, namely the Caprice No.16 by Niccolo Paganini. A few pieces for a repertoire that could be performed on any concert stage and which I find suitable for the vast audience attending the concert organized here at the North Railway Station in Bucharest."
Lucian Haralambie
Translated by Ana-Maria Florea and Elena Daniela Radu
MTTLC, The University of Bucharest