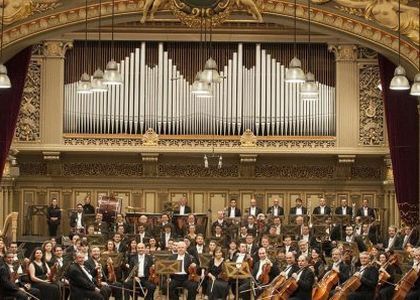 Tuesday Evening Season - 5st May 2015
Wednesday, 6 May 2015 , ora 10.51

"This has been a genuine chamber music evening, with trios one rarely has the opportunity to hear on the concert stage in Bucharest. Come to think of it, at least 25 years have passed by since we last listened to
The Debussy Trio
on a concert stage in the Capital. Also,
Brahms Trio in C Minor
is rarely performed and this trio by Gaspar Cassadό was a first in Romania... It was a sensational and genuine chamber music evening. I would like to mention the subtlety with which they moved from one work to another...a splendid evening ..." said the violoncello player Marin Cazacu, at the end of this evening's concert, performed at the
Small Hall of the Romanian Athenaeum
on 5
th
May, 2015; a room that has the perfect acoustic for chamber music, performed with passion, sensitivity and a thourough care for stylistic diversity - moving from Romanticism to Modernism - by
ReZoNan Trio
.
"Loving to perform" seems to be the phrase that brought together the violonist Rafael Butaru, the violoncello player Ella Bokor and the pianist Iulian Ochescu in a trio that was created out of their desire to perform and offer the audience a diverse and sensational repertoire. The talent, the energy and the autenticity of their thourougly prepared programmes was obvious last evening as well, through the performances of the three trios by Brahms, Debussy and Gaspar Cassadό, which were presented to the enthusiastic audience of the Tuesday Evening Season; an audience which included the mentors as well, that followed their pupils with interest:
"This violinist has been the concertmaster of the Romanian Youth Orchestra since it was created and now he is the concertmaster of the Romanian National Opera Orchestra, as well; his interpretations are colourful and he masters his instrument. Iulian Ochescu is a very talented pianist, having a very special light touch. Ella Bokor is a violinist who bursts with energy. I have always admired her for the way in which she gives each note its own importance; and she has succeeded in conveying the mood the composer intended, there is no doubt about it... It is said that the value of a talent weighs in the ability one has to create together with other people and not in the ability to create alone; hence this evening's interpretation has been based on a type of relationship that has created a collective performance, which has made the entire concert more valuable..." (Marin Cazacu)
The ReZoNan Trio - or three musicians with very well-grounded musical minds and a harmonious voice - exudes talent, elegance and seriosity. Rafael Butaru, Ella Bokor and Iulian Ochescu are the names of the three musicians, praised by the audience, who has received them with delight on another Tuesday Evening Season show at the Small Hall of the Romanian Athenaeum.
Jeanine Costache
Translated by Ana-Maria Florea and Elena Daniela Radu
MTTLC, The University of Bucharest