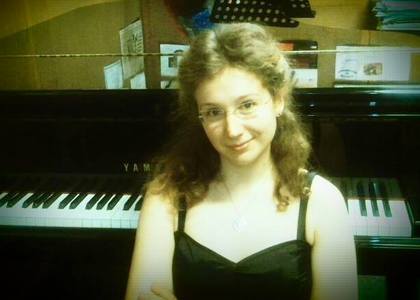 Tuesday Evening Season - 21st April, 2015
Wednesday, 22 April 2015 , ora 11.08

A mature pianist with a refined sound - this could be the definition of Mădălina Claudia Dănilă, the protagonist of the recital at the
Small Hall of the Athenaeum
on 21
st
April.
A Tuesday Evening Season
with two Romanian works:
Concentrics for Piano
by Fred Popovici and
Resonances on a Yellow Background
by Ulpiu Vlad performed with thrill in front of the composers attending the concert:
"I wanted to create a recital with the first part dedicated to Classicism and the second part to Modernism. I love the two Romanian works; playing with them and discovering them. I loved working with the two composers and I believe that this "performer-composer" collaboration is extremely important and I personally intend to get the most out of it; working with the composers is a very interesting experience and has a good feedback from the performers, because they would know exactly what the composer intended..."
A musical journey, moving from Classicism to Modernism, this is what Mădălina Claudia Dănilă suggested; a thouroughly thought programme and a sensational one - for the audience in the concert hall - which had a practical purpose, namely to hide their anxiousness to be performing on one of the most important stages in the country:
"I confess that I was anxious at the beginning, but along the way I managed to get into the right mood and I truly hope that it was visible and that I succeeded in touching the audience`s heart with something beautiful".
I admired, together with the audience in the concert hall, the posture of the pianist Mădălina Claudia Dănilă, who was collected, passionate and had a diverse technical abitlity. There is no doubt that her solo tour will take her to the important musical centres of the country and beyond.
Jeanine Costache
Translated by Ana-Maria Florea and Elena Daniela Radu
MTTLC, The University of Bucharest