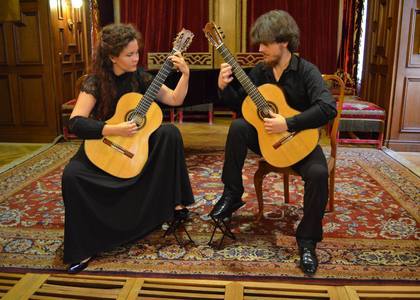 The Tuesday Evening Season - 12th May, 2015
Wednesday, 13 May 2015 , ora 13.42

An eclectic' programme is the description the guitar players Alexandra Petrișor and Dragoș Horghidan, the two musicians who are the members of the
Duo Kitharsis ensemble
, entitled their musical performances held on Tuesday evenings:
'We started with Jean Philippe Rameau's compositions - a conductor who belongs to the French Baroque period - performed in our own transcription. We chose a song which the Yugoslav composer Dučan Bogdanoviæ composed especially for a guitar duo. Then, we tried to relax the atmosphere with a nocturne, a Spanish dance from the song La Vida Breve composed by Manuel de Falla. We ended up the evening with Ástor Piazzolla's piece which was written for a guitar duo and comprised three incendiary tangos…a little crazy ones.'
The guitar players Alexandra Petrișor and Dragoș Horghidan are two musicians who feel a great pleasure for playing; they created Duo Kitharsis in 2009 guided by their maestro, the Professor Dr. Cătălin Ștefănescu-Pătrașcu. Since then their career has been constantly developing with an impressive record. In 2014 they were awarded the Grand Prix at the IXth edition of the International Guitar Course & Competition in Olsztyn (Poland). I have noticed that the two musicians, who have a full and interesting career performing concerts together both in Romania and abroad, communicate very well. Duo Kitharsis made its first appearance in Paris in 2015 during the concerts season organized by the Young Talent Association. Alexandra Petrișor and Dragoș Horghidan are two instrumental performers who know and dovetail each other very well. This is why I asked them to define one another's personality:
'Alexandra is a very strong and irreplaceable woman, a constantly evolving musician...it's hard to quantify this now...', said Dragoș Horghidan.
'...Dragoș is irreplaceable, as well...he is headstrong, but a very good musician and friend at the same time...I can't imagine this duo without him...', stated Alexandra Petrișor.
The two guitar players Alexandra Petrișor and Dragoș Horghidan proved out their sensitivity, innovation, a desirable agility in performing the virtuoso passages and not in the last place denoted an excellent communication capacity while performing at the Small Hall of the Romanian Athenaeum. They dedicated the 12th May, 2015 evening to the guitar in a recital that one can enjoy fairly rare in concert halls.


Jeanine Costache
Translated by Anca-Elena Vezeanu and Elena Daniela Radu
MTTLC, the University of Bucharest