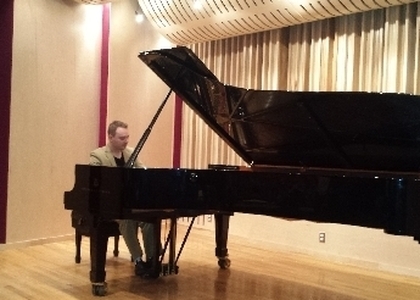 Matei Varga's Piano Recital in New York, Sponsored by the RCI - at Radio Romania Music`s Suggestion
Wednesday, 6 May 2015 , ora 11.42

The
Romanian Cultural Institute
in New York hosted in Manhattan`s concert hall - with the occasion of this year`s reunion of the
European Broadcasting Union
- the Romanian pianist Matei Varga`s recital.

The Event was organized at Radio Romania Music`s suggestion
Living in New York, Matei Varga is acknowledged as one of the most important native Romanian piano players. His first performance, in 2008, was described by New York Concert Review as "faultless". Matei Varga won second prize at the George Enescu International Festival and Competition, hosted in Bucharest and received a special prize for the best performance of George Enescu`s Sonata for Cello and Piano No. 1 in F minor. He has performed numerous recitals and chamber concerts and has been a soloist in famous concert halls from all around the world.
Oltea Șerban Pârâu: I am here in New York City, with the occasion of the EBU Broadcasting Day, hosted by the Metropolitan Opera House. The EBU`s programme will begin with a musical event initiated by Radio Romania Music and sponsored by the Romanian Cultural Institute: it is the pianist Matei Varga`s recital, who is settled in New York and which will take place this evening at The Space Concert Manhattan, near the Metropolitan Opera House. This is a unique opportunity for us, to have the name of Radio Romania Music linked to these important events that take place in New York City each May and which bring together representatives of European public radios for a series of seminars, debates, shows and concerts centred on the international music programmes initiated by the EBU years ago.
The fact that one can listen to the broadcasting of opera performances each Saturday on Radio Romania Culture and Radio Romania Music, among which a significant number is from the Metropolitan Opera House, is because of the powerful network of musical interchange, initiated by the European Broadcasting Union. We are glad to be a part of these events.
Matei Varga's recital will be honoured with the presence of several radio officials from all around Europe. It is a high-class event that projects the image of Radio Romania Music internationally.
We are glad to offer our listeners the chance to be a part of these afternoon shows - on our frequencies, of Radio Romania Culture and Radio Romania Music or online on the websites of these two channels - hosted this weekend by the Metropolitan Opera House. These shows are intentionally scheduled at 13:00 o`clock New York time, so the European listeners could listen to them live, in the evening.
Oltea Șerban - Pârâu from New York City
Translated by Ana-Maria Florea and Elena Daniela Radu
MTTLC, the University of Bucharest