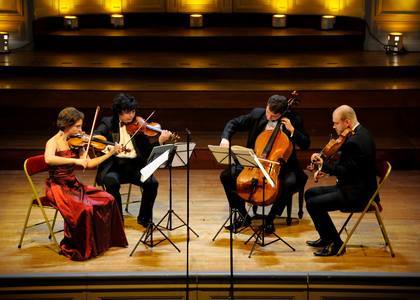 The First Recital of the 'Arcadia' Quartet on the Stage of the Romanian Athenaeum
Saturday, 13 June 2015 , ora 13.29

After having performed a few weeks ago on the stage of the "Tinerimea Română" National Arts Centre, under whose patronage it has been since May, the "Arcadia" Quartet, which is based in Cluj, performed its first concert on the stage of the Romanian Athenaeum, on Saturday, 13th June, 2015. If the programme of the previous event had consisted of musical works belonging to composers of extremely different musical genres - from Haydn to Janáèek, this one was a purely Romantic one.
The evening made its début with the String Quartet No. 4 in E minor, Op. 44, No. 2, by Felix Mendelssohn. The musicians started the proposed musical journey with a sound, about which we could say that was performed with the confidence and great force of expression characteristic to them. I didn't meet any kind of romantic excess or pathetic outbursts, the entire opus having been interpreted in an as balanced a manner as possible. This approach seemed to have delighted the public, who even if it wasn't very numerous, was very diverse.
- We have come here on holiday from Spain and together with some friends we have decided to come here, to the Romanian Athenaeum this evening . We are thrilled, everything was extraordinary. We had no idea that all four musicians were Romanian! They seemed truly wonderful to me. This is the first time I have come here, but I will most certainly return!
After the intermission, the four members of the "Arcadia" Quartet, namely, violinists Ana Torok and Răsvan Dumitru, violist Traian Boală and cellist Zsolt Torork were joined by the cellist Marin Cazacu. Together they performed the Quintet for 2 violins, viola & 2 cellos in C major, D. 956, by Franz Schubert. It would be superfluous to describe what happened next on stage; I certainly didn't realize how quickly time flew. I think that when I perceive the recital in that way, the artists did it right.
Cellist Marin Cazacu talked to us about his presence on the stage of the Romanian Athenaeum at the end of the performance:
Beside the fact that this is a musical work which I cherish so much that I could interpret any time of the day or night, under any circumstances and in front of any kind of public - because it gives the musician the chance to interpret some of the most moving musical excerpts ever composed - the joy of performing alongside these young musicians, whom I have known for a very long time, is truly fascinating. We only rehearsed twice in order to adapt ourselves to this evening's special and difficult score. I managed to integrate myself into an ensemble which is already very well welded. I envisage an extraordinary future for them. They are young musicians who love music and who interpret it as such and I have seen that the public really appreciates everything they have created. Today I have had the pleasure to see that, in Romania too, this kind of making music has its own future.
Radu Mihalache
Translated by Izabela - Elvira Vațe and Elena Daniela Radu
MTTLC, The University of Bucharest