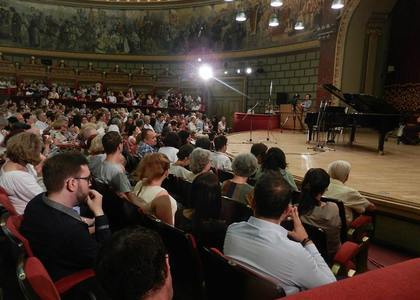 Mihaela Martin, Elena Bashkirova Barenboim and Istvan Vardai on the Stage of the Romanian Athenaeum
Tuesday, 23 June 2015 , ora 10.46

We may sometimes ask ourselves "Why even bother going to concerts?" Why bother going to a concert hall and getting ourselves ready as long as we are most probably not going to listen to as successful versions as those on our CDs.
The chamber music recital we listened to at the Romanian Athenaeum last evening answered my "Why" question; and that was, because being right there, at that moment, we experienced "the state of music" as Celibidache called it.
We had the chance to listen to three top-class musicians on Wednesday, 22nd July, 2015: the violinist Mihaela Martin, an artist with an ample career which has taken her to all four corners of the world, who has dedicated part of her energy to the training of younger musicians; the cello player Istvan Vardai and pianist Elena Bashkirova Barenboim, the founder of the The Jerusalem International Chamber Music Festival. The programme the three musicians presented was a truly profound and emotional one infused with subtleties.
The event started with a charming Sonata for Violin and Piano by Wolfgang Amadeus Mozart.
Interpreting the musical score strictly, Mihaela Martin and Elena Bashkirova Barenboim immersed the audience into the state they much wanted. The first half of the programme was marked by the Trio in A minor by Johannes Brahms.
After the intermission we had the chance to listen to the Trio in B-flat major, Op. 99 by Franz Schubert.
This ample musical journey had all the elements of a successful performance: the technique, the emotion, and above all, a deep understanding of the musical meanings. The reaction of the public rose to the occasion. They applauded continuously in the hope that the musicians would play an encore. It was not the case, but, nevertheless, last evening's concert was indeed, a very valuable gift.
Radu Mihalache
Translated by Anca Romete and Elena Daniela Radu
MTTLC, the University of Bucharest