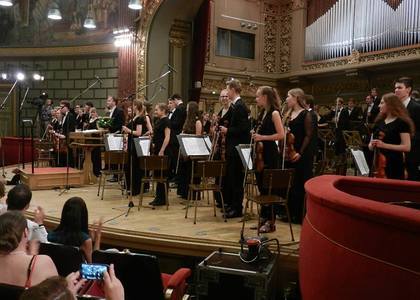 The Concert of the National Youth Orchestra of Germany at the 'Magical Summers'
Wednesday, 22 July 2015 , ora 9.00

Yesterday evening, 21st July, 2015, at the Romanian Athenaeum, we had the oppurtunity to listen to the National Youth Orchestra of Germany, more exactly one of the German youth orchestras whose members are aged between 15 and 21 years old. The concert, which was included in the ʺMagical Summerʺ Festival, was a very pleasant one and it had a balanced programme.
The evening started with the Classical Symphony by Sergei Prokofiev. The young musicians performed their interpretative duties successfully and brought the proper colour to this work. After that we could listen to the Appalachian Spring by Aaron Copland, presented in a narrow instrumental formula. We remarked the clarinetist and the flutist 's special talent.
After the intermission, we listened to the most important work of the evening: The Italian Symphony by Felix Mendelssohn. We could instantly remark the good mastery of the work and the pleasure to perform it. The conductor Patrick Lange, the one who headed the orchestra, proved to bevery efficient. He managed to obtain everything he wanted from the musicians, without making any excessive gestures.
The concert was very well received by the enthusiastic audience, who was gratified with an extended encore, that culminated with the Flight of the Bumblebee by Nikolai Rimski Korsakov. After the concert in Bucharest, the young musicians will continue their international tour, which will take as far as China.
In the end, we talked to the conductor Patrick Lange:
It has been an wonderful experience. The Athenaeum is a very wonderfull hall and it has a great tradition. Before coming here, I had seen it only in the pictures, but it reminds me a little of the Musikverein Large Hall in Vienna; it has its own special atmosphere. The audience's answer was extraordinary and the experience was amazing.
We remarked the extraordinary energy you shared with the orchestra, especially when performing the Italian Symphony. How did you choose this programme?
At first, we chose only Mendelssohn's work, and then we thought of a work that might contrast with it and that is how we got to the Classical Symphony. We thought of having a shorter work in the middle to offer the hearing the possibility to take a breath. It is more interesting to listen to a shorter instrumentation and soloist voices that can express certain meanings much better. With Mendelssohn`s Italian Symphony you can see the Italian landscape, and with Copland`s work, the American landscape. This is the connection between these two works.
Radu Mihalache
Translated by Oana Diaconu and Elena Daniela Radu
MTTLC, the University of Bucharest