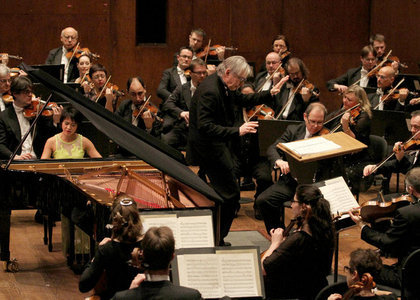 A Late Storm of Emotions
Tuesday, 22 September 2015 , ora 14.28

After a very hot beginning of September on the streets of Bucharest, last night (6
th
September), I witnessed what seemed to be a late storm of emotions at the Great Palace Hall, an unexpected development in the performance of the
San Francisco Symphony Orchestra
, which held its first concert in Bucharest under the baton of the American Music Director Michael Tilson Thomas.
I admit that I left home that night having high expectations, which were later fulfilled on different stages of intensity. The excitement overwhelmed me on the worn-out stairs of the hall. Ten minutes before the concert was supposed to start, the instruments of the American performers were just being taken out of the trucks that had been delayed when they passing through the customs at the border.
The atmosphere backstage was strained.
The concert hall was full and the audience was waiting feverishly.
After a few necessary announcements that were made on stage, the orchestra plunged into the performace of the resonant, complicated and especially strenuously modernist Piano Concert no.2 by Bela Bartok in a manner that was straightformard, quick and precise, and at a certain moment, even thrillingly emotional. The `untempered` Yuja Wang went on stage in Bucharest once again. Bartok`s masterpiece kept its coherency and it was vividly provocative for both the soloist and the orchestra. The score was outgoing and it required a very high physical endurance, virtuosic perfection, trust and a certain rhythmic unity in the continuous stream between the orchestra, conductor and soloist, as well as a lot of patience from the audience. The overwhelming rush at the end made the audience in the hall applaud Yuja excitedly. Despite this fact, there was still a lasting impression that something wasn`t right.
I took a deep breath and waited patiently.
The beginning of the concert was delayed by thirty minutes only. There was enough time for Elisabeth Leonskaja, a special member of the audience, to arrive. As Romania is well known for its enthusiastic audience, there was an encore, too. There were actually two encores, which were performed by the members of the orchestra with a big smile on their faces. They played Mozart-Volodos-Wang's Rondo alla turca and Bizet-Horowitz's Fantasy, a variation on a theme from Bizet's Carmen.
My last impression was also the strongest one, and it was formed during the final movement of the Symphony no.1 by Gustav Mahler, From the Inferno to Paradise. Michael Tilson Thomas conducted this movement as if Mahler's symphonies were imprinted on his DNA. It was a game of gradual sensations that were sometimes expressed through a barely audible unity that exploded at the end - it was a storm of spiritual emotion.
And again, the intense applauds suggested that an encore should be performed.
I thought that they will also perform the American opus that the conductor had given up at the begining of the concert. I knew that Ives's music had a nostalgical atmosphere about it that suited this orchestra's inclination towards introspection. However, with a discreet sign, Michael Tilson Thomas sent us all to bed.
It was past 22.00.
Corina Rădoi
Translated by Ilinca Elena Dinulescu and Ioana Săbău
MTTLC, the University of Bucharest