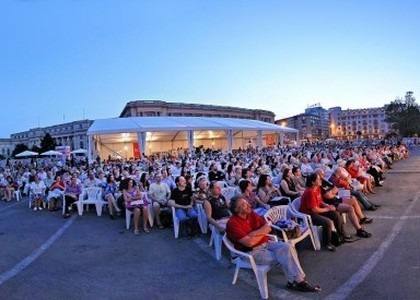 The George Enescu Festival Square is Now Open - 10th September, 2015
Friday, 11 September 2015 , ora 10.19

On Calea Victoriei, the city is nervous, angry, crowded. It has started raining and the car horns have inevitably started to honk. It is the first day of autumn. This is also how the first evening in the
George Enescu
Festival Square looks like. The
National Radio Orchestra
conducted by David Crescenzi and accompanied by tenor Ștefan Pop is on stage.
Indeed, people were not intimidated by weather forecasts. They came in large numbers. The hall is filled to the brim both out in the open and under the tent set up for the event. Ștefan Pop, who is already renowned on the international opera stage, the conductor David Crescenzi and the National Radio Orchestra are delighting all who came here this evening.
In the Square, under dozens of umbrellas of all colours, lie the music lovers who did not manage to buy tickets for the festival, as well as people who have never been inside a concert hall before. We are all listening to Verdi, Puccini, Donizetti, Tchaikovsky. The rain keeps pouring, the Square is still full and yes, I do believe that the magic of this festival really exists.

Why did you choose the Festival Square?
Because I enjoy Verdi's music a lot and I've seen in the playbill that there are a lot of arias from his works, and because I found out that it's the first outdoor evening.

Good evening. Is it too cold for the Festival Square?
It's never cold. Not for the festival.

But what do yo think about the music's sound here, outdoors, with all these cars passing by?
We ignore them. We can't even tell they're there. We can only hear what must be listened to.

How does the National Radio Orchestra sound here, on the street?
It sounds well. An outdoor concert is welcomed by those of us who can't afford a ticket or who don't have room inside the halls.

What is it like to look at the sky while listening to music outdoors?
Excellent. I've just gotten out of the Athenaeum. It's way better outside than inside.

Really?
Yes. This is better, it's colder out here. I'm guessing it's the first outdoor evening. It's good.
Georgiana Petrache
Translated by Bucur Adrian and Ioana Săbău
TTLC, the University of Bucharest