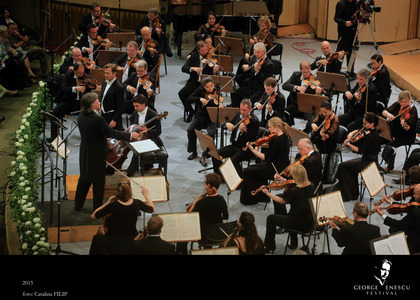 The Evening that Could Have Been... Exceptional
Thursday, 10 September 2015 , ora 10.53

Brahms and Mahler - the symphonies that were proposed last evening at the Great Palace Hall belonged to them.
Brahms's Double Concerto in A minor reunited the Renaud and Gautier Capuçon brothers as the soloists of a virtuosic concertino. They were carefully and inspiredly accompanied by maestro Ion Marinand the entire London Symphony Orchestra. An opus that was filled with romantic soaring, retaining the virtuosity and independence of the solo instruments that were inspired by Beethoven's Triple Concerto for Violin Cello and Piano. A Brahms performance in which the violinist displayed his 1737 Guarneri de Gesu violin with its gorgeous sound, and the cellist, his 1701 Matteo Goffriler cello with its quiver. They both played the concerto's Andante as one, and passionately, yet not overdoing it, in the end. Both of them displayed their technical skills and ability of following each other, with a respect that almost reached adoration, even when Brahms's score was meant to introduce the two soloists as two discrepant entities...
I enjoyed the 'Capuçon unison' of Brahms's Double Concerto. And, in Händel-Halvorsen's Passacaglia (offered as encore), it plainly delighted me. And, to be honest, I had expected this 'unison' to manifest itself between the two entities that were still on stage during the second part of the evening, the orchestra and the conductor, that is, between the famous London orchestra and Ion Marin. But, unfortunately - and I'm taking responsibility for my words - the 'unison' was not there...
I have noticed and obviously appreciated the astonishing quality of the London Orchestra's instrumentalists; but, at the same time, I would like to emphasize the fact that the San Francisco Symphonic Orchestra - which I had listented to three evenings before performing Mahler's Symphony No. 1 - has better horn players and trumpeters; I have also noticed the London instrumentalists' ability to perform as complex a play as Mahler's Symphony No. 5 is almost by themselves: eyes on the score and too little on Ion Marin. What I mean is that the London Symphony Orchestra is an 'organism' that does well on its own - but I would have preferred not to notice that!
I do not know whose fault it was: conductor Ion Marin's - an otherwise exceptional musician, with involved gesturing and who is generally careful with balancing the overall sonority - or the very orchestra's - much too aware of its caliber. But, I believe that if that 'unison' had come into being, we would have witnessed a climactic 'symphonic evening' in this year's edition of the Enescu Festival, as well as Mahler's Symphony No. 5 in a version much more intimate to the conductor. It would have been the version of Ion Marin - not that of an ensemble...
It could have been done: because Elgar's Salut d'amour, requested by the audience, was superbly performed. During Love's greeting, which Ion Marin dedicated to his wife, Hrisanta, the exceptional concert master of the London Orchestra held a soloistic intervention in total unison with the conductor.
Luminița Arvunescu
Translated by Bucur Adrian and Ioana Săbău
MTTLC, the University of Bucharest