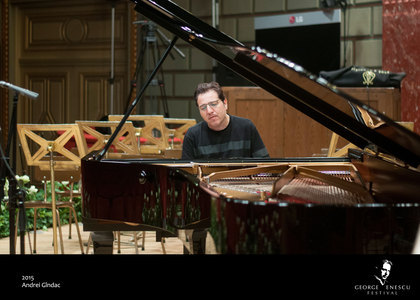 A Chronicle of Fazil Say's Recital at the Romanian Athenaeum - 4th September
Saturday, 5 September 2015 , ora 13.32

I do believe that yesterday (4
th
September, 2015) the pianist Fazil Say tested us through his concert at the Romanian Athenaeum. He tested our competence as an experienced audience by performing the two
Beethovenian sonatas from the second part of the programme with too much velocity and some accents that were not included in the score, while the ending of the well-known
Moon Sonata
was performed, moreover, with such a tempo that left no place for nuances. He also tested
our competence as an impressionable audience that is easily seduced by less accomplished fragments than the first two nocturnes, during which the pianist did not attain the confessional, poetic tone that defines Chopin's works. And at the end, he tested our competence as an authentic audience made up of music lovers, through the four encores that belonged to the music film and jazz genres intertwined with personal compositions inspired by oriental themes or transcriptions of classical works, such as
Summertime
or
Alla turca
from the Mozartian
Sonata
. These encores proved to be more to the audience's liking than the sound world of Debussy's
Miniatures
, which were, nonetheless, masterfully imagined by the Turkish pianist.
Indeed, Frazil Say's recital had moments of sheer artistic perfection: firstly, the preludes The Sunken Cathedral, Footprints in the Snow and Puck's dance, along with Frédéric Chopin's Nocturne No. 20, to which the artist gave an extraordinary diversity of nuances and a truly exceptional atmosphere.
Fazil Say has an astonishing versatility, that is clear; his presence on stage is completely outstanding, that is also true; his virtuosity seems flawless, I admit that. And still... his performance on 4th September, 2015 did not strike me as brilliant as Fazil Say is considered by the media, at least the German one.
Part of the blame seems to lay with the instrument that the pianist had to use, or at least that is what Fazil Say claimed, declaring that he was unsatisfied with this performance and he did not want to have this recording running on our stations, Radio Romania Music and Radio Romania Culture.
In the picture, Fazil Say during a rehearsal at the Romanian Athenaeum
Luminița Arvunescu
Translated by Alexandra Velicu and Ioana Săbău
MTTLC, the University of Bucharest